Republican Congressional Majority May Still Deny Climate Change, but These GOP Lawmakers Beg to Differ
Tuesday, November 03, 2015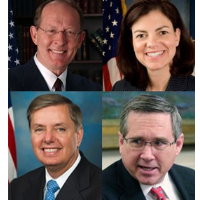 (Clockwise, from top left:) Sens. Lamar Alexander, Kelly Ayotte, Mark Kirk, Lindsey Graham
Most Republicans in Congress continue to profess disbelief that climate change is real, but more than a dozen GOP senators and representatives have taken a stand for science.
First, 11 GOP members of the House in September endorsed a resolution calling for action on climate change. The resolution called for more scientific studies, modernizing energy transmission and expanding renewable energy sources, and promoting investment in new technologies.
They include Richard Hanna, Elise Stefanik and Chris Gibson of New York, who sponsored the resolution, plus Ileana Ros-Lehtinen and Carlos Curbelo of Florida, Ryan Costello, Pat Meehan and Mike Fitzpatrick of Pennsylvania, Robert Dold of Illinois, Frank LoBiondo of New Jersey and Dave Reichert of Washington.
Over in the Senate, four Republicans have formed a Senate Energy and Environment Working Group that will "focus on ways we can protect our environment and climate while also bolstering clean energy innovation that helps drive job creation," according to Senator Kelly Ayotte of New Hampshire. She's being joined by Lamar Alexander of Tennessee, Mark Kirk of Illinois and Lindsey Graham of South Carolina.
"The Energy and Environment Working Group will be a way for us to bring people together and start an ongoing conversation about these topics — like how we can best protect our environment and climate, pursue common sense and market-based reforms to grow our economy, and promote cleaner energy production," Ayotte said in a statement.
Graham has expressed his concerns about climate change while running for president.
"I'm not a scientist, and I've got the grades to prove it," Graham said during the most recent Republican debate. "But I've talked to the climatologists of the world, and 90 percent of them are telling me that the greenhouse gas effect is real. That we're heating up the planet."
-Noel Brinkerhoff
To Learn More:
These 4 Republican Senators Are Forming a Group to Tackle Climate Change (by Katie Valentine, ThinkProgress)
These House Republicans Are Joining the Pope and Calling For Climate Action (by Samantha Page, ThinkProgress)
Many Conservative Republicans Believe Climate Change Is a Real Threat (By Coral Davenport, New York Times)
Climate Change Deniers in the United States Congress (by Maguire Mealy, Huffington Post)
Climate Change Doubters—Particularly Among Republicans—Hit Record Low (by Steve Straehley, AllGov)
12 Catholic Members of Congress Whose View of Climate Change Departs from the Pope's (by Noel Brinkerhoff, AllGov)
House Republicans Clash with Pentagon over Climate Change and National Security (by Noel Brinkerhoff and Steve Straehley, AllGov)