12 Catholic Members of Congress Whose View of Climate Change Departs from the Pope's
Thursday, January 22, 2015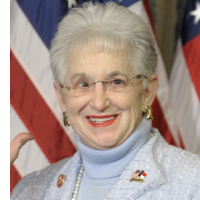 Virginia Foxx (AP photo)
Pope Francis says climate change is a serious problem and that mankind is responsible for causing and fixing the problem. But at least a dozen GOP Catholic lawmakers reject the idea that humans are responsible for global warming.
ClimateProgress identified the following representatives and senators as being in opposition to the Pope on the issue:
Senators Dan Sullivan of Arkansas, Marco Rubio of Florida and Patrick Toomey of Pennsylvania; and Representatives John Boehner (Ohio), Bruce Poliquin (Maine), Steve King (Iowa), Paul Ryan (Wisconsin), Mick Mulvaney (South Carolina), Alex Mooney (West Virginia), Paul Gosar (Arizona), Steve Scalise (Louisiana) and Virginia Foxx (North Carolina).
Pope Francis said: "I don't know if it is all [man's fault] but the majority is, for the most part, it is man who continuously slaps down nature. We have in a sense taken over nature."
Sullivan says "the jury's out on climate change" and that man isn't responsible. Many of his fellow deniers came up with similar reasoning, claiming the science isn't settled.
Foxx said she believes it is ridiculous to think humans are the cause of climate change because God created the climate.
-Noel Brinkerhoff
To Learn More:
Pope Francis Says Humans Cause Climate Change. These Catholic Members Of Congress Disagree. (by Emily Atkin and Katie Valentine, ThinkProgress)
Pope's Climate-Change Stand Deepens Conservatives' Distrust (Associated Press)
The Anti-Science Climate Denier Caucus: 114th Congress Edition (by Tiffany Germain, Kristen Ellingboe and Kiley Kroh, ThinkProgress)
Pope Francis Expected To Instruct One Billion Catholics to Act on Climate Change (by Ryan Koronowski, ThinkProgress)
As Obama Strikes Climate Accord with China, the Environment Lands in Crosshairs of New Republican Congress (by Noel Brinkerhoff and Steve Straehley, AllGov)
House Republicans Clash with Pentagon over Climate Change and National Security (by Noel Brinkerhoff and Steve Straehley, AllGov)