Pentagon Blocks Release of 1,800 Detainee Abuse Photos, Lets Out 198
Saturday, February 06, 2016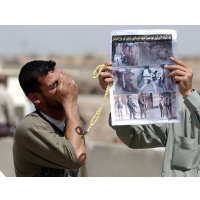 Relative of Iraqi prisoner in Abu Ghraib reacts to photos of abuse by U.S. soldiers (photo: Roberto Schmidt, Getty Images/AFP)
By Charlie Savage, New York Times
WASHINGTON — The Pentagon on Friday released 198 photographs from detainee abuse investigations in the Afghanistan and Iraq wars. The pictures, taken more than a decade ago during the Bush administration, consist largely of close-up views of scrapes and bruises on detainees' bodies.
However, the military is continuing to block the disclosure of about 1,800 other photos from the same criminal investigations, saying that their release would endanger American service members serving abroad.
The photographs are a focus of a Freedom of Information Act lawsuit filed in 2004 by the American Civil Liberties Union in the wake of the Abu Ghraib prison torture scandal. That case has resulted in the release of many documents and memos about abusive interrogation practices, but it ran into turbulence in 2009 over the photos.
After making public Bush-era memos about torture in response to the same lawsuit, the Obama administration was initially going to comply with an order to release the first group of pictures from the detainee abuse investigations as well.
But a political backlash over the wave of disclosures was growing.
Robert M. Gates, then the defense secretary, appealed to President Barack Obama to reconsider the release of the photographs, warning that it could provoke attacks against U.S. troops in the war zones.
Obama changed his mind and obtained legislation from Congress permitting the defense secretary to exempt the photos from disclosure under the information act. The reversal was an early milestone on secrecy policy for an administration that had promised to be the most transparent in history.
Under the statute, the exemption expires after three years. Leon E. Panetta, Gates' successor as defense secretary, extended it in 2012, and the current Pentagon chief, Ash Carter, extended it again in November, but decided that the 198 photos could be made public.
Jameel Jaffer, an ACLU lawyer, said the "selective disclosure" of the presumably more innocuous photographs should not be a distraction from what was still being concealed.
Cmdr. Gary Ross, a Pentagon spokesman, said in a statement that the criminal investigations into allegations of detainee abuse by U.S. military personnel had substantiated about 14 cases and cleared 42 others. Of the substantiated cases, 65 service members received disciplinary action, he said.
To Learn More:
What Do We Know about the Torture Photos Obama Refuses to Release? (by Noel Brinkerhoff, AllGov)
Judge Gives Obama Administration until December to Justify Withholding 2,100 Photos of U.S. Use of Torture in Iraq and Afghanistan (by Danny Biederman and Noel Brinkerhoff, AllGov)
Judge Clashes with Defense Dept. over Release of Abu Ghraib Photos (by Noel Brinkerhoff, AllGov)
Obama Promises Lieberman and Graham to Block Torture Photos (by Noel Brinkerhoff, AllGov)
No Proof that Abu Ghraib Photos Led to U.S. Military Deaths (by Noel Brinkerhoff, AllGov)
Would Releasing the Detainee Abuse Photos Really Endanger U.S. Troops? (by David Wallechinsky, AllGov)