Judge Clashes with Defense Dept. over Release of Abu Ghraib Photos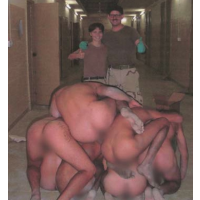 The issue of exposing the horrors documented at the Abu Ghraib prison in Iraq has again surfaced, and once again the fight pits a certain federal judge against the Department of Defense.
U.S. District Judge Alvin Hellerstein ruled Wednesday that he sees no reason why the government shouldn't have to release up to 2,000 photos allegedly showing torture of detainees at the notorious prison run by the U.S. during the war last decade, according to Joseph Ax of Reuters.
Hellerstein made a similar ruling nine years ago. But his decision was circumvented by Congress, which gave the secretary of defense authority to conceal the photos for three years if their publication was deemed a threat to American soldiers' lives.
Former Defense Secretary Robert Gates did just that in 2009, issuing an order that locked away the Abu Ghraib images, only a handful of which have surfaced. In 2012, then-Defense Secretary Leon Panetta asked for another three-year authorization to withhold the photos. Hellerstein ruled this week that circumstances have changed and the photos can now be released without endangering U.S. military personnel. Defense officials have until September 8 to make one final plea to Hellerstein to not issue his order.
"During the course of this litigation, I have reviewed some of these photographs and I know that many of these photographs are relatively innocuous while others need more serious consideration," the judge wrote, according to Reuters.
If the photographs are released, they would be first redacted to conceal the identities of any individuals, Reuters reported.
-Noel Brinkerhoff
To Learn More:
Federal Judge Suggests He Will Approve Release of 2,000 Photos Showing Abu Ghraib Abuses (by Joseph Ax, Reuters)
Judge: Government's Justification for Keeping Detainee Abuse Photos Secret is 'Not Sufficient' (by Kevin Gosztola, FireDogLake)
No Proof that Abu Ghraib Photos Led to U.S. Military Deaths (by Noel Brinkerhoff, AllGov)
Gen. Taguba Says Abuse Photos Show Rape of Women and Men (by Noel Brinkerhoff, AllGov)