Justice Dept. Fights to Prevent Legal Representation for Immigrant Children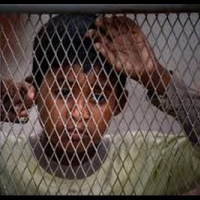 (photo: Getty Images)
By June Williams, Courthouse News Service
SEATTLE (CN) - A government attorney told a federal judge Thursday that appointing attorneys for all children facing deportation would "destroy the framework of the immigration system."
The Justice Department and the American Civil Liberties Union battled over several motions in a four-hour long hearing stemming from a case that seeks court-appointed attorneys for thousands of undocumented children whom the government has already started deporting.
The ACLU and immigrant rights groups sued the government in 2014 in a class action claiming the only way children can get a fair immigration hearing is to provide them with counsel.
The plaintiffs were all minors who were facing deportation at the time, but on Thursday the government said most of those plaintiffs are no longer facing removal proceedings, have turned 18 or now have attorneys - and should be removed from the suit.
Deputy Assistant Attorney General Leon Fresco told U.S. District Court Judge Thomas Zilly the plaintiffs were all "sympathetic cases," but they were not entitled to more than what the law provides.
Fresco said at least five plaintiffs were apprehended at the border and do not have the same rights as someone who has been living in the United States before deportation occurs.
"They have all statutory due-process rights, but not rights above and beyond what Congress has provided," Fresco said.
He told Zilly there are three statutes that say undocumented immigrants in removal proceedings are not entitled to an attorney.
Fresco said if the court disregarded those statutes, it would "impact national sovereignty."
The ACLU's Ahilan Arulanantham argued that the law states potential deportees should get a fair hearing.
"Every individual in removal hearings is entitled to a full and fair hearing," Arulanantham said, adding that a child can't get a "fair hearing" without being properly represented by an attorney.
The case drew national attention when Immigration Judge Jack Weil told the ACLU in deposition, "I've taught immigration law literally to 3-year-olds and 4-year-olds. It takes a lot of time. It takes a lot of patience. They get it."
Zilly also heard a motion to certify the class and a motion to compel government discovery. He said he will issue a ruling at a later date.
The only ruling he issued Thursday was to dismiss the U.S. Citizenship and Immigration Services and its director Leon Rodriguez as defendants.
To Learn More:
Lawsuit Accuses Immigration Officials of Denying Applications of Abused Children (by Ryan Kocian, Courthouse News Service)
U.S. Health Agency Accused of Releasing Lone Migrant Children to Traffickers (by Tim Ryan, Courthouse News Service)
Border Patrol Deported 93% of Unaccompanied Mexican Children under 14 without Legal Hearings (by Steve Straehley, AllGov)
Despite Opposition from Majority of Americans, Obama Fast Tracks Deportation of Children (by Noel Brinkerhoff and Steve Straehley, AllGov)
There's Money to be Made on Flood of Child Immigrants (by Steve Straehley, AllGov)
Majority of Americans Support Treatment of Migrant Children as Refugees, Not Illegal Immigrants (by Noel Brinkerhoff, AllGov)
The Anti-Trafficking Law that Backfired into the Current Flood of Child Immigrants (by Noel Brinkerhoff, AllGov)
Obama Bypasses Congress to Halt Deportation of Children and Caregivers (by Noel Brinkerhoff, AllGov)
What to do about Children Illegally Crossing into the U.S. Alone? (by Noel Brinkerhoff, AllGov)