Border Patrol Deported 93% of Unaccompanied Mexican Children under 14 without Legal Hearings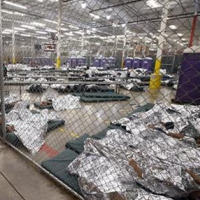 Central American imigrant children in holding cell (photo: Ross D. Franklin, AP)
Undocumented unaccompanied minors from Canada and Mexico may be returned to their home countries by the Border Patrol under certain conditions, one of which is that the minor be able to make an independent decision about returning. However, those under 14 are considered incapable of making that decision. Why then has the Border Patrol deported 93% of such minors without hearings?
A report (pdf) from the Government Accountability Office (GAO) showed that the vast majority unaccompanied minors are not getting a chance to show they fear persecution if they're returned to their home countries. "The part that is illegal is not that they have not been giving them documentation, the part that's illegal is that they have not been adequately screening them according to the law," Jennifer Podkul, a senior program officer for the Migrant Rights and Justice program at the Women's Refugee Commission, told Homeland Security News Wire.
Unaccompanied minors from countries other than Mexico and Canada are guaranteed a hearing before they can be deported. However, the Department of Homeland Security (DHS) has more leeway with immigrants from the United States' neighboring countries. Those minors may be returned if they're not victims of a severe form of trafficking in persons; they're not at risk of trafficking upon return; they do not have a fear of returning due to a credible fear of persecution; and they're able to make an independent decision about returning. It's the last provision that appears to be violated in the case of the youngest immigrants.
Even those immigrants who do get to go before a judge rarely have counsel to guide them. A 2014 study by Syracuse University found that only about a third of unaccompanied minor immigrants had legal representation.
In addition, the GAO found that such minors are not getting some of the care to which they're entitled, such as meals and access to sanitary facilities. If they don't decide to return home, minors are supposed to be turned over to the Department of Health and Human Services within 72 hours.
The GAO made 12 recommendations in its report, including that DHS ensure that Border Patrol officers use proper procedures when determining if an immigrant can make an independent decision about being sent home voluntarily, and that those steps are documented.
-Steve Straehley
To Learn More:
Actions Needed to Ensure Children Receive Required Care in DHS Custody (Government Accountability Office) (summary—pdf)
Actions Needed to Ensure Children Receive Required Care in DHS Custody (Government Accountability Office) (full report—pdf)
One Year Later, Obama Administration Faces Criticism Over Child Migrant Policies (by Alan Greenblatt, Knoxville News Sentinel)
CBP Violated Rules In Deporting Thousands of Unaccompanied Children (Homeland Security News Wire)
Vicious Cycle: Deport Criminals to Central America, Gangs Grow and Children and Others Flee the Region to the U.S. (by Noel Brinkerhoff, AllGov)