The Anti-Trafficking Law that Backfired into the Current Flood of Child Immigrants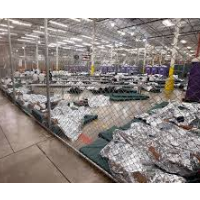 Immigrant children in an Arizona holding cell (photo: Ross D. Franklin, AP)
The current policy crisis over the flood of immigrant children into the United States is a classic example of good legislative intentions gone awry.
In the waning days of the George W. Bush administration, Congress adopted legislation designed to make things safer for unaccompanied immigrant children arriving into the U.S.
The William Wilberforce Trafficking Victims Protection Reauthorization Act of 2008 (pdf) (named for a 19th-century British abolitionist) enjoyed bipartisan support as well as backing from Christian conservatives. It called for the Department of Health and Human Services, and not immigration authorities, to take care of children entering the country alone.
But it applied only to youths from countries other than Canada and Mexico, and it mandated that they receive an immigration hearing, plus assistance from an advocate. Legal counsel was also recommended for them. The whole point of the law was to ensure that the children were put into "the least restrictive setting" that was in their best interests.
It passed Congress by unanimous consent and the Bush White House said at the time of the bill's signing that the president was "proud" to support it, and cited similar efforts adopted in other countries to help parentless child immigrants.
But that law is now causing a political nightmare for the Obama administration. Republicans have accused President Barack Obama of dragging his feet on dealing with the more than 50,000 children who have come to the United States since October. The total may reach 90,000 by the end of this year.
"We weren't necessarily giving new immigration status to anyone," David Abramowitz, former chief counsel for the House Foreign Affairs Committee who helped craft the legislation, told the National Journal. "We were just trying to provide mechanisms to protect children to ensure they were handled properly when they were in the United States."
Obama has asked lawmakers for $3.7 billion in funding to help care for the influx, and for authority to bypass some of the law's requirements.
One key Democrat, Senator Dianne Feinstein of California, who coauthored the 2008 act, has insisted that Obama doesn't need Congress' approval to take action. "That law already provides the administration with flexibility to accelerate the judicial process in times of crisis," Feinstein said, according to The New York Times. "The administration should use that flexibility to speed up the system while still treating these children humanely, with compassion and respect."
-Noel Brinkerhoff
To Learn More:
Immigrant Surge Rooted in Law to Curb Child Trafficking (by Carl Hulse, New York Times)
Why We Don't Immediately Send the Border Kids Back (by Brian Resnick, National Journal)