Despite Opposition from Majority of Americans, Obama Fast Tracks Deportation of Children
Wednesday, August 13, 2014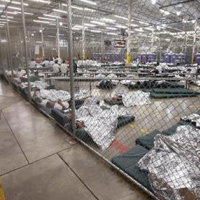 Central American imigrant children in holding cell (photo: Ross D. Franklin, AP)
President Barack Obama is deporting unaccompanied immigrant children from Central America as fast as possible, even though most Americans think the kids should be allowed to stay at least for a while in the United States.
A new Reuters/Ipsos poll revealed 51% of respondents said the children coming to the U.S. from Central America should be permitted to remain in the country, at least temporarily, with 38% saying the children should be allowed to stay until it is safe for them to return home and 13% responding that they should be allowed to stay indefinitely.
Only 32% said the children should be immediately deported, indicating Obama is bending to the will of the minority by ordering immigration courts to fast track the children's hearings.
"Obama is widely seen as acting, at least in part, because of intensifying election-year pressure from Republicans, who say he has not moved swiftly enough to curb the influx," Rebecca Elliott and Jon Herskovitz wrote at Reuters.
As it speeds up deportations of the children, the administration has created another bottleneck in the immigration process. Judges are being moved from other duties to focus on these hearings. As a result, other cases have been moved to the back burner.
"The sad part is that these judges have full dockets," Tampa immigration lawyer John Ovink told the Tampa Bay Times. "Most of these judges have in excess of 3,000 cases. Even if one judge is assigned extra time to do kids, it means that existing hearings will be pushed back."
Attorneys assisting the immigrants fear that the accelerated hearing timetable won't allow their clients to obtain the documentation they need to present their cases.
-Noel Brinkerhoff, Steve Straehley
To Learn More:
Obama Vow to Speed Deportation of Children at Odds with Public Opinion (by Rebecca Elliott and Jon Herskovitz, Reuters)
Miami, Orlando Immigration Courts Fast Track Juvenile Deportation Proceeding (by Anna Phillips, Tampa Bay Times)
Majority of Americans Support Treatment of Migrant Children as Refugees, Not Illegal Immigrants (by Noel Brinkerhoff, AllGov)