Lawsuit Accuses Immigration Officials of Denying Applications of Abused Children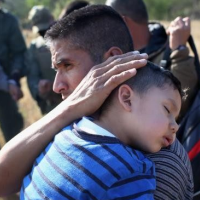 (photo: John Moore, Getty Images)
By Ryan Kocian, Courthouse News Service
AUSTIN, Texas (CN) - A federal class action claims that immigration officials illegally deny the Special Immigrant Juvenile applications of abused and neglected refugee children by saying they are no longer children, though the Texas Family Code says they are.
Deepak Budhathoki et al. sued the Department of Homeland Security, DHS Director Jeh Johnson, Citizenship and Immigration Service Director Leon Rodriguez, and USCIS San Antonio Field Office Director Mario R. Ortiz on Tuesday, under the Administrative Procedure Act.
David Walding, director of the Bernard Kohler Center, which represents the plaintiffs, told Courthouse News the legal violations stem from the federal government's efforts to deport Central American children, who have fled to the United States in increasing numbers due to violence from police and criminal gangs.
Immigration agencies have expedited children's cases since at least 2014, Walding said.
The drive to deport child refugees reached ridiculous proportions last week when the Washington Post and Boston Globe revealed that a senior official in the Department of Justice said that 3- and 4-year-old children can learn enough immigration law to represent themselves in court.
Jack H. Weil, a longtime immigration judge who now trains other immigration judges, made the comments in a deposition for a federal case in Seattle.
"I've taught immigration law literally to 3-year-olds and 4-year-olds," Weil said. "It takes a lot of time. It takes a lot of patience. They get it. It's not the most efficient, but it can be done," according to the Washington Post.
To make sure there was no mistake, the Post said, citing Weil's deposition, he repeated the claim: "I've told you I have trained 3-year-olds and 4-year-olds in immigration law. You can do a fair hearing. It's going to take you a lot of time."
Weil's comments spurred outrage in Congress.
"I've never heard such a stupid, stupid thing," Sen. Patrick Leahy said Wednesday at a hearing of the Senate Judiciary Committee.
Leahy, of Vermont, is the senior Democrat on the committee and the former head of it. He made the comment to U.S. Attorney General Loretta Lynch, who was called to answer why children were being forced to represent themselves in immigration courts.
Lynch dodged the question, according to The New York Times, and after a few more unsuccessful attempts to get an answer, Leahy gave up.
In the new case, filed March 8, the three named plaintiffs seek to represent a class of "All unmarried persons whose applications for Special Immigrant Juvenile (SIJ) status were denied or will be denied by the U.S. Citizenship and Immigration Services (USCIS) because the required Texas court dependency order ('Suit Affecting the Parent-Child Relationship' or SAPCR) became final after the person turned 18 years."
The plaintiffs, all under 21, obtained SAPCR orders from Texas courts finding "they have been subjected to abandonment, abuse or neglect by one or more parent; that reunification with one or more parent is not viable based on that abandonment, abuse or neglect; and that return to the plaintiff's country of origin is not in the best interests of the child."
They cite a report from the U.S. Department of Health and Human Services' Office of Refugee Resettlement, stating there were 53,515 unaccompanied minors in Office of Refugee Resettlement custody in 2014, of whom 7,409 were released to sponsors in Texas.
The Office of Refugee Resettlement is the federal agency that provides care to unaccompanied alien children. These children are defined as a person younger than 18 who has no lawful status and does not have a parent or guardian in the United States, or the parent/guardian in the United States is unavailable to provide care for the child.
A child is eligible for Special Immigrant Juvenile relief if he or she is younger than 21, unmarried, and has been declared dependent on a juvenile court in the United States (or has been committed by a juvenile court to the custody of a state agency or a state-appointed individual); has obtained a determination by the juvenile court that reunification with one or both of his or her parents is not viable due to abuse, neglect, abandonment, or a similar basis found under State law; and has obtained a determination by the juvenile court that it is not in his or her best interest to be returned the child's country of origin or last habitual residence.
Texas courts fall within the definition of a "juvenile court" when deciding SAPCR matters, under the Texas Family Code. The federal government explicitly defers findings concerning a child's welfare to the expertise and judgment of the juvenile court, according to the complaint.
The plaintiffs say that though they are older than 18, they are children under Sec. 101.003 of the Texas Family Code. The code defines a "child or minor" as an unmarried person under 18 years of age, and/or "a person over 18 years of age for whom a person may be obligated to pay child support."
The Texas Family Code also says that a Texas court can render a SAPCR order seeking child support after a child's 18th birthday if the child is enrolled in certain educational programs. Such an order can be filed before or after the child's 18th birthday, and the obligation to support a child continues "through the end of the month in which the child graduates."
Budhathoki is a native of Nepal who was born in 1996. The Travis County Court entered final SAPCR orders in 2015 and ordered $200 per month in child support to be paid by his father until the completion of certain events, including high school.
Budhathoki filed a Special Immigrant Juvenile petition with the USCIS district office in San Antonio on Jan. 27, 2015, which denied it on Sept. 26. It claimed that the Texas court lacked jurisdiction to enter the SAPCR because Budhathoki was no longer a child.
Plaintiffs Clesmy Canales Gonzales and Ramon Soto Carias, both of Honduras, had similar experiences. Each was granted final SAPCR orders from Travis County ordering child support to be paid by their fathers. They subsequently filed SIJ petitions with USCIS, which rejected them, saying they were no longer children and the Texas court lacked jurisdiction to enter the SAPCR.
Their attorneys say the defendants' reading of the Texas Family Code is "arbitrary, capricious, an abuse of discretion, not in accordance with law, and/or in excess of USCIS' statutory jurisdiction and authority."
"Defendants' narrow definition of the term 'child' is plainly inconsistent with the Texas Family Code. Section 101.003(b) of the Texas Family Code unambiguously defines a child as 'a person over 18 years of age for whom a person may be obligated to pay child support.'
"Defendants' determination that the Texas court lacked jurisdiction is also erroneous. USCIS has no authority to question the jurisdiction of a Texas district court when there has been no challenge to the court's jurisdiction."
Walding said the central issue in this case is that the federal government claims, incorrectly, that Texas courts are not properly interpreting the state family code.
The goal of the class action is to get USCIS to apply federal laws correctly, and not undermine state court orders for children seeking Special Immigrant Juvenile relief.
USCIS told Courthouse News it does not comment on pending litigation.
The plaintiffs seek class certification, court costs and declaratory judgment that a "child" includes a person over 18 for whom a person may be obligated to pay child support; that Texas courts have proper jurisdiction to enter support orders for the class; that plaintiffs were "dependent" on a "juvenile court;" and that USCIS' denial of the SIJ petitions was arbitrary and capricious.
The Bernardo Kohler Center is an Austin nonprofit that helps refugee children and victims of human trafficking. Their attorney Tania Rosamond is co-counsel with Javier Maldonado, in San Antonio.
To Learn More:
U.S. Health Agency Accused of Releasing Lone Migrant Children to Traffickers (by Tim Ryan, Courthouse News Service)
There's Money to be Made on Flood of Child Immigrants (by Steve Straehley, AllGov)
Majority of Americans Support Treatment of Migrant Children as Refugees, Not Illegal Immigrants (by Noel Brinkerhoff, AllGov)
The Anti-Trafficking Law that Backfired into the Current Flood of Child Immigrants (by Noel Brinkerhoff, AllGov)