Obama Bypasses Congress to Halt Deportation of Children and Caregivers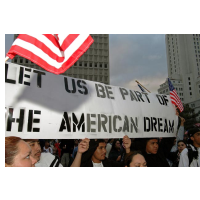 (photo: Stephen Sakulsky)
Tired of waiting for Congress to act on immigration reform, President Barack Obama has used his executive powers to halt deportations of many illegal immigrants.
The changes will apply to unauthorized immigrants who haven't broken the law, those who were children when they arrived in the United States, and adults caring for children.
Obama also wants relatives of U.S. military personnel living in the country illegally to remain and not be deported.
"What this administration has undertaken has never happened to this degree," Mark Krikorian, executive director of the Center for Immigration Studies, told McClatchy.
Immigrant advocates who have called for federal reforms were not satisfied with Obama's moves.
"The president has the legal authority to exercise discretion in immigration enforcement, and to date, that authority has been exercised poorly," Pablo Alvarado, executive director of the National Day Laborer Organizing Network, told McClatchy.
Kevin Johnson, an immigration policy expert at the University of California, Davis, School of Law, said Obama could go further and halt all deportations. But that drastic of a move would be politically unwise, he said.
"Could he put a moratorium on removals? Yes," Johnson told McClatchy. "But politically it would be a disaster. It would end the possibilities for comprehensive immigration reform."
Conservatives opposed to immigration reform also were upset at the news of the changes.
"The current administration is picking and choosing which laws to enforce," Representative Robert Goodlatte (R-Virginia), chairman of the House Judiciary Committee, said. "The president cannot refuse to enforce a law simply because he dislikes it."
Last year, the federal government deported about 369,000 immigrants, representing a 10% decline from 2012. The majority of those deported (59%) were convicted of a crime.
-Noel Brinkerhoff
To Learn More:
Obama Is Using Executive Power To Affect Immigration Law (by Anita Kumar, McClatchy)
US Deported around 369,000 Immigrants in 2013 (by Anthony Advincula, Philippne Daily Inquirer)
Is it Fair to Deport Veterans who Break the Law? (by Noel Brinkerhoff, AllGov)