VA's Suicide Hotline Allowed Calls to Go to Voicemail
Thursday, February 18, 2016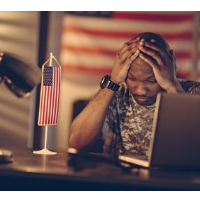 (photo: Getty)
By Matthew Daly, Associated Press
WASHINGTON (AP) — A suicide hotline operated by the Department of Veterans Affairs allowed crisis calls to go into voicemail, and callers did not always receive immediate assistance, according to a report by the agency's internal watchdog.
The report by the VA's office of inspector general says calls to the suicide hotline have increased dramatically in recent years, as veterans increasingly seek services following prolonged wars in Iraq and Afghanistan and the aging of Vietnam-era veterans.
The crisis hotline — the subject of an Oscar-winning documentary — received more than 450,000 calls in 2014, a 40 percent increase over the previous year.
About 1 in 6 calls are redirected to backup centers when the crisis line is overloaded, the report said. Calls went to voicemail at some backup centers, including at least one where staffers apparently were unaware there was a voicemail system, the report said.
Hotline callers "made numerous complaints of long wait times for responders, being put 'on hold' or calls 'not being put through' to a responder," the report said.
Sen. John McCain, R-Ariz., said he was deeply saddened and disappointed by the IG report.
"The VA's failure to help our most vulnerable veterans is not only unacceptable, but it is shameful," McCain said. "The VA's inability to run a call center and deal with increasing demand has put our nation's veterans at greater risk."
Deputy VA Secretary Sloan Gibson said the agency agrees with the report's recommendations and is working to modernize the crisis hotline, located in Canandaigua, New York, to better serve veterans. The VA is hiring more staff and has implemented staggered shifts to increase staffing during peak call times from 10 a.m. to 10 p.m., Gibson said.
"We are improving our ability to be more available when our veterans need help the most," said Gibson, who visited the hotline center twice last year.
Upgrades are planned in the next year to provide state-of-the art phone systems and greater work space for staff who answer crisis calls, Gibson said.
About one-fifth of all suicides in the United States are committed by veterans, and the VA has highlighted suicide prevention as a crucial area of concern. A law signed by President Barack Obama year requires the Pentagon and VA to submit to independent reviews of their suicide prevention programs and make information on prevention more easily available.
The law also offers financial incentives to psychiatrists and other mental health professionals who agree to work for the VA and assists military members as they transition from active duty to veteran status.
An HBO documentary highlighting the life-and-death drama of the VA suicide hotline won an Oscar last year. The film, "Crisis Hotline: Veterans Press 1" won for best documentary, short subject.
Paul Rieckhoff, CEO of Iraq and Afghanistan Veterans of America, an advocacy group that works with the call center, said he was disappointed by the IG's report.
"As the number of service members, veterans and their families reaching out to the Veterans Crisis Line continues to grow, the need for additional resources becomes more apparent," Rieckhoff said.
To Learn More:
Female Vets 6 Times more likely to Commit Suicide than Non-Vets (by Noel Brinkerhoff, AllGov)
Sen. Coburn Blocks Funding for Veterans Suicide Prevention Web Site (by Noel Brinkerhoff, AllGov)
57,000 Veterans Waiting more than 3 Months for First Medical Appointments; 64,000 Not Even on the List (by Noel Brinkerhoff, AllGov)
Suicide Rate for Veterans Double Rate for Civilians (by Noel Brinkerhoff, AllGov)
Suicides by Veterans Average 18 a Day (by Noel Brinkerhoff, AllGov)