Suicide Rate for Veterans Double Rate for Civilians
Saturday, August 31, 2013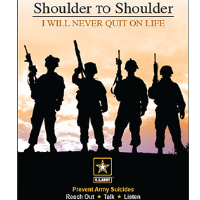 Suicides among veterans continue to be a serious problem, with the rate among ex-soldiers now more than double that of the rate for civilians.
The annual suicide rate for veterans is about 30 for every 100,000 people, while the rate among non-military is about 14 per 100,000, according to News21.
After reviewing government data collected from 2005 to 2011, News21 found the suicide rate for veterans went up an average of 2.6% a year. During that same time period, the civilian rate increased only 1.1% annually.
Today, nearly one out of every five suicides in the U.S. involves a veteran—even though veterans make up only 10% of the adult population.
In terms of actual numbers of suicides, about 49,000 veterans killed themselves between 2005 and 2011.
"Anytime a veteran who fought our enemies abroad or helped defend America from within our borders dies by their own hand, it's completely unacceptable," Representative Jeff Miller (R-Florida), chairman of the House Committee on Veterans' Affairs, told an American Legion conference in Washington earlier this year, according to News21 at Arizona State University.
Congress took action six years ago to address the rising number of military suicides by adopting the Joshua Omvig Veteran Suicide Prevention Act, which was named for an Iraq war veteran who committed suicide in 2005.
The 2007 law required the Department of Veterans Affairs (VA) to increase its suicide prevention efforts and craft a comprehensive program to reduce the problem. The VA's efforts included educating the public about suicide risk factors, providing additional mental health resources for veterans and tracking veteran suicides in each state.
The VA's mental health care staff and budget have grown by nearly 40% over the last six years, and a crisis hotline for veterans has experienced a steady increase in the number of calls, texts and chat session visits from former soldiers struggling with suicidal thoughts.
And yet, the suicide numbers remain high. Miller said that more work needs to be done to reduce this problem.
"It's not enough that the veteran suicide problem isn't getting worse," he said, according to News21. "It isn't getting any better."
-Noel Brinkerhoff
To Learn More:
Suicide Rate for Veterans Far Exceeds that of Civilian Population (by Jeff Hargarten, Forrest Burnson, Bonnie Campo and Chase Cook, News21)
Suicide Rate of Women Vets Triple that of Non-Vets (by Noel Brinkerhoff, AllGov)
Suicides by Veterans Average 18 a Day (by Noel Brinkerhoff, AllGov)