Why So Few Americans in Panama Papers? Firm "Defends" its Rejection of U.S. Clients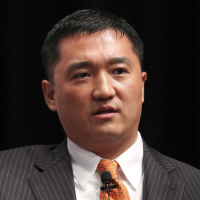 Wall Street financier Benjamin Wey, an American in the Panama Papers (photo: Bloomberg/Getty Images)
By Juan Zamorano and Joshua Goodman, Associated Press
PANAMA CITY (AP) — Rich and influential people around the globe have found themselves under siege since a major data leak revealed their ties to secretive financial accounts and shell companies in low-tax havens used to hide wealth.
The uproar has brought down the prime minister of Iceland and raised questions about the presidents of Argentina and Ukraine, senior Chinese politicians, and the circle of friends of Russian President Vladimir Putin. On Thursday, British Prime Minister David Cameron became the latest politician ensnared when he acknowledged having profited from his father's investments in an offshore tax haven before being elected.
Yet few American names have cropped up in the "Panama Papers," a trove of 11.5 million confidential records detailing such accounts. That's because the Panama-based Mossack Fonseca law firm at the center of the scandal doesn't like taking on American clients, one of its founders says.
Ramon Fonseca, who started the firm with Jurgen Mossack, told The Associated Press in an interview Thursday that their law firm has only a handful of American clients, most of them members of Panama's burgeoning expat retirement community. It's not out of any anti-Americanism or fear of the Internal Revenue Service.
"My partner is German, and I lived in Europe, and our focus has always been the European and Latin American market," Fonseca said at his law office.
"He loves the U.S. a lot, and I do, too. My kids were educated there," Fonseca added. But "as a policy we prefer not to have American clients."
Sueddeutsche Zeitung, the German newspaper that first obtained the documents, said the records include copies of the passports of 200 Americans and about 3,500 shareholders in offshore companies have listed addresses in the U.S. That's a tiny fraction of the more than 250,000 companies Mossack Fonseca has set up for clients in four decades of business.
One reason for the dearth of American clients may be because such companies can be easily created in U.S. states such as Wyoming, Delaware and Nevada, attracting less attention than they might in Panama, a country with a reputation for shady financial deals and money laundering.
Europe is also home to countries that provide banking secrecy that could provide haven from taxes, such as Luxembourg, Switzerland and Andorra.
Many Panamanians point to those activities in wealthy countries and say they are angry over what they consider a double standard behind criticism of Panama.
On Thursday, a European Union official threatened sanctions on Panama and other nations if they don't cooperate fully to fight money laundering and tax evasion.
"People are fed up with these outrages," said Pierre Moscovici, who heads financial affairs for the 28-nation EU. "The amounts of money, the jurisdictions and the names associated with this affair are frankly shocking."
Panama is listed by the EU as a country that is not cooperative on tax issues, and Moscovici urged the country to "rethink its position in this regard."
Panamanian President Juan Carlos Varela has said his government will cooperate more and announced plans for an international committee of experts to recommend ways to boost transparency. But he also vows to defend his country against what he says are media attacks that unfairly stigmatize Panama.
In Britain, the prime minister could become the next European politician to find himself under attack. After four days fending off headlines about his family's finances, he acknowledged Thursday that he and his wife, Samantha, sold shares worth 31,500 pounds (currently $44,300) in an offshore fund named Blairmore Holdings in January 2010 — five months before Cameron became prime minister. They had paid 12,497 pounds for the shares in 1997.
Cameron's father, Ian Cameron, an affluent stockbroker who died in 2010, was a client of Mossack Fonseca. There's no indication the offshore fund was set up to avoid taxes but the revelation reinforced the prime minister's image as a scion of wealth and undermined calls to boost transparency at a time many British overseas territories act as tax havens.
Also on Thursday, an Argentine prosecutor asked a judge to authorize an investigation into President Mauricio Macri's role in two offshore companies.
Russian President Vladimir Putin, meanwhile, denied having any links to offshore accounts and described the document leaks as part of a U.S.-led plot to weaken Russia even though his name doesn't appear in any of the leaked records.
"They are trying to destabilize us from within in order to make us more compliant," he said Thursday at a forum in St. Petersburg.
The Washington-based International Consortium of Investigative Journalists, which helped coordinate reporting on the leak, said the documents indicate Russian cellist Sergei Roldugin acted as a front man for a network of Putin loyalists and, perhaps, the president himself.
Fonseca said his firm creates about 20,000 shell companies annually but also rejects about 70 to 80 clients every year due to conflicts that arise during due diligence.
"We're not perfect and some surely escape by," he said. "But so far the only crime that has been proven is the hack."
To Learn More:
Forget Panama: U.S. is a Leading Tax Avoidance Haven for Foreigners (by Paul Wiseman and Marcy Gordon, Associated Press)
Offshore Accounts of World Leaders Detailed in Leaked Documents (by Frank Jordans, Associated Press)
Offshore Tax Havens Cost U.S. $184 Billion in Revenue Every Year (by Noel Brinkerhoff, AllGov)
Major Swiss Bank Secretly Cultivated Thousands of U.S. Tax Evaders (by Noel Brinkerhoff, AllGov)