Overview
<p> Originally settled by the Norse people, Iceland formed the Althingi, a ruling assembly that comprised the oldest parliament in the world. Iceland became an independent country in 1262, when the country entered into a treaty with the Norwegian monarchy. Subsequently, Iceland was controlled by Denmark, which created a limiting trade relationship that negatively affected Iceland&rsquo;s economy. The ACT of Union, passed in 1918, made Iceland independent again, and after being occupied by the German army during WWII, the United States assumed responsibility for Iceland&rsquo;s defense. The country has had several conflicts with Great Britain about fishing limits, but in recent years has taken steps to join a more open international community of traders and political allies.</p> <div> In the wake of the recent financial crisis of 2008, Iceland hiked interest rates in a desperate attempt to save its currency from turmoil. Eventually, Iceland&rsquo;s three biggest banks collapsed after they amassed $61 billion of debt, equivalent to 12 times the country&rsquo;s gross domestic product. The government took over the three banks and was forced to seek an International Monetary Fund bailout as its currency lost as much of 80 percent of its value. Then in late 2008 and early 2009, Icelanders held widespread protests to signal their frustration with the government. In 2009 a coalition government replaced Geir Haarde&rsquo;s government and Social Democrat minister <a href="http://en.wikipedia.org/wiki/J%C3%B3hanna_Sigur%C3%B0ard%C3%B3ttir" title="Jóhanna Sigurðardóttir">J&oacute;hanna Sigur&eth;ard&oacute;ttir</a><span> became the first openly gay head of a government in the modern era. Because of Iceland&rsquo;s fiscal crisis, strategic location, and small size, the US plans to implement peace and security programs that amount to $100,000 in 2011.</span></div>
more
less
Basic Information
<p> <b>Lay of the Land</b>: Iceland occupies an area of 103,000 sq. km. (approximately 39,600 square miles), which is about the size of the state of Virginia, or slightly larger than Ireland. The capital is Reykjavik, and its highest elevation is Hvannadalshnj&uacute;kur at Vatnaj&ouml;kull Glacier, at 2,110 meters (6,923 ft.).</p> <div> &nbsp;</div> <div> <b>Population</b>: 304,367</div> <div> &nbsp;</div> <div> <b>Religion</b>: Lutheran (state-sponsored) 82.2%, other 8.1%, Free Lutheran 4.7%, Catholic 2.4%, non-religious 2.6%.</div> <div> &nbsp;</div> <div> <b>Ethnic Groups</b>: homogeneous mixture of Norse and Celts 94%, foreign-born 6%.</div> <div> &nbsp;</div> <div> <b>Languages</b>: Icelandic (official) 80%.&nbsp;Nordic languages, German, and English are widely spoken.</div>
more
less
History
<p> People of Norse origin settled Iceland in the late 9th and early 10th centuries. In 930 AD, ruling chiefs established a constitution for the country, which was ruled by an assembly called the Althingi (Al&thorn;ingi). This comprised the oldest parliament in the world.&nbsp;</p> <div> &nbsp;</div> <div> The early settlers of Iceland were pagan, but by the 10th Century, pressure to convert to Christianity led many Icelanders to accept the new faith. The conflict between religions would provide fodder for several civil conflicts over the next century.&nbsp;Iceland consecrated its first bishop in 1056.</div> <div> &nbsp;</div> <div> During the 11th and 12th centuries, Iceland&rsquo;s power became centralized, giving a few families and their leaders much of the nation&rsquo;s authority. The period of 1200 to 1262 is commonly known as the &ldquo;Age of the Sturlungs,&rdquo; because Sturla &THORN;&oacute;r&eth;arson and his sons &THORN;&oacute;r&eth;ur, Sighvatur, and Snorri, were one of two main clans fighting for power over Iceland. In 1220, Snorri Sturluson became a vassal of Haakon IV of Norway. His nephew Sturla Sighvatsson also became a vassal in 1235. Sturla used the power and influence of the Sturlungar family to wage war against the other clans in Iceland.</div> <div> &nbsp;</div> <div> Iceland remained an independent country until 1262, when it entered into a treaty with the Norwegian monarchy.&nbsp;In the late 14th Century, Iceland was merged with the Danish crown, after Norway bowed to Denmark&rsquo;s authority.</div> <div> &nbsp;</div> <div> By the middle of the 16th Century, Christian III of Denmark began to impose Lutheranism on his subjects. J&oacute;n Arason and &Ouml;gmundur P&aacute;lsson, the Catholic bishops of Sk&aacute;lholt and H&oacute;lar respectively, opposed Christian&#39;s efforts at promoting the Reformation in Iceland. In 1541, &Ouml;gmundur was deported by Danish officials.</div> <div> &nbsp;</div> <div> This opposition ended in 1550, when J&oacute;n Arason was captured after being defeated in the Battle of Sau&eth;afell. He and his two sons were eventually beheaded in Sk&aacute;lholt. Following this, Iceland became Lutheran, and remains largely so to this day.</div> <div> &nbsp;</div> <div> In 1602, Denmark created a trade monopoly with Iceland by forbidding it to trade with other countries. This trade monopoly remained in effect until 1854.</div> <div> &nbsp;</div> <div> In 1800, the Althingi was abolished. It was re-established in 1843 in a consulting role. By 1847, Denmark had granted Iceland limited home rule, which was subsequently expanded in 1904.&nbsp;The country&rsquo;s new constitution, written in 1847 and revised in 1903, granted authority over the Althingi to a minister for Icelandic Affairs, who was based in Reyjavik.&nbsp;</div> <div> &nbsp;</div> <div> In 1918, the Act of Union was passed. This agreement with Denmark recognized Iceland as a fully sovereign state that was united with Denmark under a common king. Iceland designated its own flag, but Denmark continued to represent Iceland at home, in foreign affairs, and in defense interests.&nbsp;</div> <div> &nbsp;</div> <div> The German Army occupied Iceland in 1940 and effectively cut its ties with Denmark.&nbsp;Iceland moved to assume control over its territorial waters and foreign affairs, and in May 1940, British forces occupied Iceland. Iceland held a plebiscite and became an independent republic on June 17, 1944.&nbsp;</div> <div> &nbsp;</div> <div> In 1949, Iceland became a charter member of NATO, and remains the only NATO country with no standing army.</div> <div> &nbsp;</div> <div> The Cod Wars, a series of confrontations between Iceland and Britain, lasted from the 1950s until the 1970s.. Britain was unable to prevent Iceland from expanding its fishing limits from four to 12 miles off its coast, which made for the first conflict in 1958, and when Iceland expanded these limits even further to 50 miles in 1972, the conflict escalated into what is known as the second Cod War. The third Cod War began in November 1975 when Iceland extended its fishing limits to 200 miles off its coastlines. Britain refused to recognize this authority and continued to fish in the disputed area. Both sides deployed ships to enforce control of the waters, and a few shots were fired. Several boats were rammed, and both crews endured injuries and a few deaths among them.</div> <div> &nbsp;</div> <div> Signaling a desire to promptly resolve the conflict, Iceland threatened closure of the US-manned NATO base at Keflav&iacute;k, which would have made it difficult for NATO to defend the Atlantic from a Soviet threat. Britain finally agreed to have its fisherman stay outside the 200-mile limit.&nbsp;</div> <div> &nbsp;</div> <div> In 1991, the Independence Party, led by Dav&iacute;&eth; Oddsson, formed a coalition government with the Social Democrats. The government liberalized policies and privatized several small and large companies. The nation&rsquo;s economy stabilized, and inflation was curbed. In 1994, Iceland became a member of the European Economic Area. Though recession affected Iceland in the early 1990s, economic growth remained steady.</div> <div> &nbsp;</div> <div> In 1995, the Independence Party formed a coalition government with the Progressive Party. This government continued expanding the country&rsquo;s free market policies, primarily through the privatization of two commercial banks and the state-owned telecommunications company Siminn. The coalition government remained in power after elections in 1999 and 2003.&nbsp;</div> <div> &nbsp;</div> <div> In 2004, Dav&iacute;&eth; Oddsson stepped down as prime minister after 13 years in office. Halld&oacute;r &Aacute;sgr&iacute;msson, leader of the Progressive Party, took over from 2004 to 2006, followed by Geir H. Haarde, Dav&iacute;&eth; Oddsson&rsquo;s successor as leader of the Independence Party.</div> <div> &nbsp;</div> <div> Following elections in May 2007, the Independence Party headed by Geir H. Haarde remained in government as part of a new coalition with the Social Democratic Alliance. In October 2008, Iceland raised interest rates massively in order to protect the country&rsquo;s currency from failing amidst the worldwide financial crisis.</div> <div> In October 2008, the Icelandic banking system, including Kaupthing, Glitnir Bank hf and Landsbanki Islands hf collapsed after they amassed $61 billion of debt, equivalent to 12 times the country&rsquo;s gross domestic product. The government took over the three banks and was forced to seek an International Monetary Fund bailout as its currency lost as much of 80 percent of its value.</div> <div> &nbsp;In late 2008 and early 2009, Icelanders held widespread protests to signal their frustration with the government, eventually prompting the resignation of the government of Geir Haarde. On February 1, 2009, a coalition government led by the Social Democratic Alliance and the Left Green Movement took over. Social Democrat minister <a href="http://en.wikipedia.org/wiki/J%C3%B3hanna_Sigur%C3%B0ard%C3%B3ttir" title="Jóhanna Sigurðardóttir">J&oacute;hanna Sigur&eth;ard&oacute;ttir</a><span> became the first openly gay head of government in the modern era.</span></div> <div> &nbsp;</div> <div> <span>With the floundering of the economy of several other European countries, specifically Greece, experts have noted that Iceland is different in that they have their own currency and thus are separate from the demands of countries whose currency is the euro. </span></div> <div> &nbsp;</div> <div> The Eyjafjallajokull volcano, one of Iceland&rsquo;s largest, had been dormant for nearly two centuries before returning to life on March 20, 2010. Lava began erupting out of the volcano in the days that followed. but returned to somnolence in early April. However, on April 14, the volcano began spewing ash as high as 11,000 meters, disrupting air traffic in Northern Europe. Hundreds of rural Icelanders had to evacuate the area.</div> <div> &nbsp;</div> <div> <a href="http://en.wikipedia.org/wiki/History_of_Iceland"><font color="#0000ff">History of Iceland</font></a> (Wikipedia)</div> <div> <a href="http://www.nationsencyclopedia.com/Europe/Iceland-HISTORY.html'"><font color="#0000ff">Iceland: History</font></a> (Nations Encyclopedia)</div> <div> <a href="http://www.icelandtouristboard.com/index.php?page=About-Iceland#history"><font color="#0000ff">History of Iceland</font></a> (Icelandic Tourist Board)</div> <div> <a href="http://news.yahoo.com/s/nm/20081028/bs_nm/us_financial6_50"><font color="#0000ff">Global stocks bounce, Iceland hikes rates massively</font></a> (by Burton Frierson and Elizabeth Piper, Reuters)</div> <div> <a href="http://www.nytimes.com/2010/04/16/world/europe/16iht-scene.html?scp=5&amp;sq=iceland&amp;st=cse"><font color="#0000ff">Icelandic Volcano Began Rumbling in March</font></a> (by Brian Knowlton, New York Times)</div>
more
less
Iceland's Newspapers
<p> B<a href="http://www.bb.is/" target="_blank">aejarins Besta</a></p> <div> <a href="http://www.onlinenewspapers.com/lt.php?2581" target="_blank">Dagbladid V&iacute;sir</a></div> <div> <a href="http://www.eyjafrettir.is/forsida" target="_blank">Eyjafr&eacute;ttir</a>&nbsp;(Vestmannaeyjar)</div> <div> <a href="http://www.onlinenewspapers.com/lt.php?13155" target="_blank">F&eacute;lag lei&eth;s&ouml;gumanna</a></div> <div> <a href="http://www.fjardarposturinn.is/" target="_blank">Fjar&eth;arp&oacute;sturinn</a>&nbsp;(Hafnarfj&ouml;r&eth;ur)</div> <div> <a href="http://www.onlinenewspapers.com/lt.php?2583" target="_blank">Fr&eacute;ttabladid</a></div> <div> <a href="http://www.patreksfjordur.is/" target="_blank">Fr&eacute;ttavefurinn Tidis</a>&nbsp;(Vesturbyggd)</div> <div> <a href="http://icelandreview.com/" target="_blank">Iceland Review</a></div> <div> <a href="http://www.onlinenewspapers.com/lt.php?2585" target="_blank">Morgunbladid</a></div> <div> <a href="http://www.grapevine.is/Home/" target="_blank">The Reykjavik Grapevine</a>&nbsp;(Reykjavik)</div> <div> <a href="http://www.skarpur.is/" target="_blank">Skarpur</a>&nbsp;(H&uacute;sav&iacute;k)</div> <div> <a href="http://www.onlinenewspapers.com/lt.php?2586" target="_blank">Skessuhorns</a></div> <div> <a href="http://vaktin.is/?action=prices&amp;method=display&amp;cid=8" target="_blank">Vaktin</a>&nbsp;(Vestmannaeyjar)</div> <div> <a href="http://www.onlinenewspapers.com/lt.php?2588" target="_blank">Vefthjodviljinn</a></div> <div> <a href="http://www.onlinenewspapers.com/lt.php?2590" target="_blank">Vikurfrettir</a></div>
more
less
History of U.S. Relations with Iceland
<p> In July 1941, the United States assumed responsibility for Iceland&rsquo;s defense during World War II. Following the war, the US and Iceland agreed to terminate US defense interests in Iceland. However, the United States retained certain rights at Keflav&iacute;k to operate an air force base.</p> <div> &nbsp;</div> <div> When the Korea War broke out in 1950, the US again assumed responsibility for Iceland&rsquo;s defense as part of a bilateral defense agreement signed in May 5, 1951.</div> <div> &nbsp;</div> <div> The Icelandic governments of the 1990s and 2000s adhered to a controversial but staunch pro-US foreign policy, lending nominal support to the NATO action in the Kosovo War and signing up as a member of the coalition during the 2003 invasion of Iraq.</div> <div> &nbsp;</div> <div> In March 2006, the United States announced that it intended to withdraw the greater part of the Icelandic Defense Force. In August 2006, the last four F-15s left Icelandic airspace. The United States closed the Keflav&iacute;k base in September 2006.</div> <div> &nbsp;</div> <div> Although some Icelanders came to America as Mormon converts in the mid 19th Century, the first significant wave arrived between 1870 and 1900, when about 15,000 of Iceland&rsquo;s population of 75,000 immigrated to North America (including Canada, where they founded the settlement of New Iceland). Immigration records didn&rsquo;t differentiate between Danes and Icelanders until 1930, so early estimates of the Icelandic population (5,105 in 1910) are somewhat unreliable.&nbsp;</div> <div> &nbsp;</div> <div> Immigration ground to a halt until the end of World War II, when a number of Icelandic women were brought back as brides by American servicemen stationed there during the war. Although early immigrants congregated in Midwestern agrarian communities, there was an exodus to urban centers in the 20th Century. California, Washington, Minnesota and North Dakota are home to the largest Icelandic communities in the US.</div> <div> &nbsp;</div> <div> <a href="http://findarticles.com/p/articles/mi_m0JIW/is_57/ai_n9543990/pg_1?tag=artBody;col1"><font color="#0000ff">U.S.-Icelandic Defense Relations during and After the Cold War</font></a> (by Gudni Th. Johannesson, Naval War College Review)</div>
more
less
Current U.S. Relations with Iceland
<p> In March 2006 the US announced it would continue to provide for Iceland&rsquo;s defense but without permanently basing forces in the country. Naval Air Station Keflavik closed in September 2006 after 55 years. The government of Iceland expressed disappointment, and even opposition politicians opposed to the US military presence criticized the manner of the closing, but bilateral discussions led to new ways of ensuring the country&rsquo;s security, with an emphasis on a &ldquo;visible defense.&rdquo;</p> <div> &nbsp;</div> <div> Negotiations concluded with a Technical Agreement on base closure issues that covered facilities return, environmental cleanup, and residual value, and a &ldquo;Joint Understanding&rdquo; on future bilateral security cooperation (focusing on defending Iceland and the North Atlantic region against emerging threats such as terrorism and trafficking). The US also cooperated with local officials to mitigate the impact of job losses at the air station, notably by encouraging US investment in industry and tourism development in the Keflav&iacute;k area. The government of Iceland announced in spring 2007 that a large portion of the former base site would be converted into the university-level &ldquo;<a href="http://en.keilir.net/"><font color="#0000ff">Atlantic Center of Excellence</font></a>.&rdquo;</div> <div> &nbsp;</div> <div> Cooperative activities began almost immediately with the arrival of the amphibious ship USS Wasp in Reykjav&iacute;k on October 12, 2006 (the first U.S. Navy port visit since 2002) to demonstrate the US Navy&rsquo;s rapid reaction capability and to support counterterrorism training by units of Iceland&rsquo;s Coast Guard and police. In November 2006 a US Navy P-3 patrol aircraft arrived at Keflav&iacute;k for joint search and rescue, disaster surveillance, and maritime interdiction training. Further joint endeavors, including a US-led air defense exercise, were also planned.&nbsp;</div> <div> &nbsp;</div> <div> The US has repeatedly condemned Iceland&rsquo;s whaling practices, gaining international support from countries committed to the International Whaling Commission (IWC), which has sought to end commercial whaling. Iceland has defied the 1982 IWC comprehensive ban on commercial whaling.&nbsp;In February 2009, the US voiced its concerns for Iceland&rsquo;s decision to increase its whaling quota to 150 fin and 150 minke whales for the year, a six fold increase. Although the new government includes parties opposed to whaling, the Icelandic administration has committed to the same quota, saying it was legally bound. In June 2010 the IWC is scheduled to vote on lifting the ban on commercial whaling, a move opposed by many.</div> <div> &nbsp;</div> <div> According to the 2000 census, 42,716 people identified themselves as being of Icelandic ancestry.</div> <div> &nbsp;</div> <div> In 2006, 77,107 Americans visited Iceland. Tourism has grown slowly but steadily every year since 2002, when 63,529 Americans went to Iceland.</div> <div> &nbsp;</div> <div> In 2006, 42,139 Icelanders visited the US. The number of tourists has increased steadily, more than doubling since 2002, when 18,692 Icelanders came to America.</div> <div> &nbsp;</div> <div> <a href="http://www.state.gov/r/pa/prs/ps/2002/10340.htm"><font color="#0000ff">Iceland: Whaling and US Relations</font></a> (US State Department)</div> <div> <a href="http://newsblaze.com/story/20060320090820nnnn.nb/topstory.html"><font color="#0000ff">US Forces Leaving Iceland, Army Closing Luxembourg Site</font></a> (by Vince Crawley, Washington File)</div> <div> <a href="http://www.iht.com/articles/2003/07/12/ediceland_ed3_.php"><font color="#0000ff">Relations on ice over US jets</font></a> (by Valur Ingimundarson, New York Times)</div> <div> &nbsp;</div>
more
less
Where Does the Money Flow
<p> US imports from Iceland are dominated by fish and shellfish, totaling $85 million in 2009. Imports on the rise from 2005 to 2009 included miscellaneous chemicals (photo chems,print inks, and paint) up from $17,000 to $6.0 million. Clocks, typewriters and other household goods, increased from $29.3 million to $32.1 million. Soft beverages and processed coffee imports rose from$1.9 million to $6.1 million.</p> <div> &nbsp;</div> <div> Despite importing high quantities of fish and shellfish, US imports of the commodity fell from $147.2 million to $85.0 million. Other imports on the decline included food and tobacco processing machinery, down from $12.2 million to $9$9 million. Boxes, belting, glass, and abrasives decreased from $1.2 million to $289,000. Leathers and furs fell from $496,000 to $12,000.</div> <div> <b>&nbsp;</b></div> <div> During the same time period, US exports to Iceland were dominated by inorganic <span>chemicals which increased from $40.2 million to $63.2 million; fuel oil, which increased from $0 to $34.8 million; petroleum products, which moved up from $148,000 million to $18.4 million; and miscellaneous foods, which increased from $3.5 million to $5.0 million. </span></div> <div> <b>&nbsp;</b></div> <div> US exports to Iceland moving down included <span>civilian aircraft, engines, equipment and parts, decreasing from $130.8 million to $53.3 million; passenger cars, down from $94.7 million to $1.2 million; metallurgical grade coal, decreasing from $7.0 million to $6.8 million; and finished metal shapes, which moved down from $3.5 million to $846,000. &nbsp;</span></div> <div> <b>&nbsp;</b></div> <div> Partly because of Iceland&rsquo;s financial crisis, the US has included Iceland in its Congressional Budget Operations for fiscal year 2011. Iceland&rsquo;s strategic location and small size are also reasons cited for US assistance. In the past, US did not give any financial assistance to Iceland, but the State Department is requesting $100,000 for Peace and Security programs in FY 2011. This primarily includes professional military education through the US Department of Defense. The US plans to coordinate with Iceland to increase military capacity and capability to meet Iceland&rsquo;s NATO obligations and &ldquo;perceived territorial threats.&rdquo; Technical training will be provided for the Icelandic Explosive Ordinance Disposal (EOD) unit and the Icelandic civilian defense staff, which handle US military sales. The EOD unit performs in-country EOD operations, which included World War II residual ordinance, sea mines, bomb disposal, as well as deploying for the UN and NATO. Advanced EOD will increase Iceland&rsquo;s domestic anti-terrorism capability.</div> <div> <b>&nbsp;</b></div> <div> <a href="http://www.census.gov/foreign-trade/statistics/product/enduse/imports/c4000.html"><font color="#0000ff">Imports from Iceland</font></a></div> <div> <a href="http://www.census.gov/foreign-trade/statistics/product/enduse/exports/c4000.html"><font color="#0000ff">Exports to Iceland</font></a></div> <div> <a href="http://www.state.gov/documents/organization/137937.pdf"><font color="#0000ff" size="2">Congressional Budget Justification: Foreign Operations FY 2011</font></a><font size="2"> (388-389)</font></div> <div> <a href="http://www.wto.org/english/tratop_e/tpr_e/tp125_e.htm"><font color="#0000ff">Liberal Trade Regime in Iceland Contributes to Increased Trade and Strong Growth</font></a> (World Trade Organization)</div> <div> <a href="http://www.wto.org/english/tratop_e/tpr_e/tp265_e.htm"><font color="#0000ff">Trade Policy Review: Iceland</font></a> (World Trade Organization)</div> <div> <a href="http://www.census.gov/foreign-trade/balance/c4000.html"><font color="#0000ff">Trade in Goods (Imports, Exports and Trade Balance) with Iceland</font></a> (US Census Bureau)</div> <div> &nbsp;</div>
more
less
Controversies
<p> <b>Iceland Bank Files Lawsuit in New York Court</b></p> <div> The liquidators of Icelandic bank <a href="http://www.guardian.co.uk/business/2010/apr/11/iceland-bankers-damning-report"><font color="#0000ff">Glitnir </font></a>have launched a $2 billion lawsuit that accuses the retail tycoon J&oacute;n &Aacute;sgeir J&oacute;hannesson, and Glitner&rsquo;s former chief executive and chairman, of a conspiracy to extract cash from the bank. The documents were filed at New York&#39;s Supreme Court on May 11, 2010, suing the bank&#39;s auditors, PricewaterhouseCoopers, for malpractice and negligence. J&oacute;hannesson, whose permanent residence is in the UK, was served with the court papers at one of his apartments in Manhattan. Known as the ringleader in this case,&nbsp;J&oacute;hannesson has a history of criminal activity, having been previously charged with 40 counts of breaking the Icelandic penal code in 2005. Glitnir alleges that the defendants relied heavily on the bank&rsquo;s funds to finance personal expenses and to prop up their failing companies. Glitner has chosen a New York court because it is the city where the condition of the bank&#39;s finances were obfuscated in September 2007. Allegedly, those being charged sold US and New York investors $1 billion in medium-term notes (MTN) to finance their schemes, eventually hurting Glitnir by concealing their risks. Iceland&rsquo;s financial crisis, which was largely brought on by the failure of three major banks, required it to seek aid from the International Monetary Fund, sparking public outrage over the perceived reckless behavior of its bankers. Icelandic authorities have appointed a special prosecutor to look into alleged crimes committed in the leading up to the financial crisis.</div> <div> <a href="http://www.guardian.co.uk/business/2010/may/12/iceland-icesave-banking-financial-crisis"><font color="#0000ff">Collapsed Icelandic Bank&#39;s Bosses face $2bn Lawsuit</font></a> (by Zoe Wood, The Guardian)</div> <div> <a href="http://www.courthousenews.com/2010/05/14/27285.htm"><font color="#0000ff">$2 Billion Fraud Alleged at Iceland Bank</font></a> (by Barbara Leonard, Courthouse News Service)</div> <div> <a href="http://www.courthousenews.com/2010/05/14/Iceland.pdf"><font color="#0000ff">New York Supreme Court Official Complaint</font></a> (pdf)</div> <div> &nbsp;</div> <div> <b>Iceland Breaks Commercial Whaling Ban, Stirring Controversy</b></div> <div> In October 2006, Iceland broke a global moratorium on commercial whaling and killed an endangered fin whale for the first time since the 1980s. The announcement, made in the Icelandic media, was condemned by many governments around the world, except those of Norway and Japan, both friendly to pro-whaling policies. Greenpeace also came out strongly against the move and requested the International Whaling Commission not end the moratorium. In Washington, US State Department spokesman Richard Boucher said the United States was &ldquo;extremely disappointed&rdquo; with Iceland&#39;s decision to approve the whale hunt and would consider sanctions against imports from the North Atlantic island.</div> <div> <a href="http://news.bbc.co.uk/2/hi/europe/6074230.stm"><font color="#0000ff">Iceland Violates Ban on Whaling</font></a> (British Broadcasting Corporation)</div> <div> <a href="http://weblog.greenpeace.org/oceandefenders/archive/2007/01/icelands_sustainable_whal.html"><font color="#0000ff">Iceland&#39;s Sustainable Whaling? Yeah, Right!</font></a> (Greenpeace)</div> <div> <a href="http://www.commondreams.org/headlines06/1018-07.htm"><font color="#0000ff">Iceland Defies Global Ban With Return to Commercial Whaling</font></a> (by Michael McCarthy, Independent/UK)</div>
more
less
Human Rights
<p> According to the State Department, the Icelandic government generally respected the human rights of its citizens. Some human rights problems were reported, including: violence against women, societal discrimination against minorities and foreigners, and isolated reports of women trafficked to, through, and possibly from the country.</p> <div> <span>&nbsp;&nbsp;&nbsp;&nbsp;&nbsp;&nbsp;&nbsp;&nbsp;&nbsp;&nbsp;&nbsp;&nbsp;&nbsp;&nbsp;&nbsp;&nbsp;&nbsp;&nbsp;&nbsp;&nbsp;&nbsp;&nbsp;&nbsp;&nbsp; </span></div> <div> According to the State Department &ldquo;during the year, media expressed concern regarding overcrowding at the main prison at Litla-Hraun and at Reykjavik&#39;s main pretrial detention facility. When overcrowding in the main facility occurred, pretrial detainees were held in local police station jails. There was a waiting list of 240 persons convicted of crimes but unable to serve their sentences during the year due to a lack of prison space.&rdquo;</div> <div> &nbsp;</div> <div> The constitution provides for freedom of religion, and the government generally respected this right in practice. However, the state financially supported and promoted the official religion, Lutheranism. Other religions did not receive equal time and deference in school curricula or comparable subsidies for their faith-based activities.</div> <div> &nbsp;</div> <div> Additionally, the State Department noted <span>that &ldquo;the Muslim Association of Iceland&#39;s long-pending application to the Reykjavik city planning commission for land to build a mosque encountered further delay during the year. Some observers believed that the commission was prejudiced against the proposed mosque, since the applications of other groups for similar plots made swifter progress during the same period.&rdquo;</span></div> <div> &nbsp;</div> <div> The State Department wrote that &ldquo;the Jewish community numbered fewer than 100 individuals. There was one report of an anti-Semitic act. The proprietor of a Reykjavik bicycle store hung up a sign in his store in January that read that no Jews were welcome. The owner removed the sign in short order after receiving harsh public criticism.&rdquo;</div> <div> &nbsp;</div> <div> Violence against women continued to be a problem. Police statistics indicated that the incidence of reported violence against women, including rape and sexual assault, was low; however, the number of women seeking medical and counseling assistance indicated that many incidents went unreported.</div> <div> There were isolated reports that persons were trafficked to, through, and possibly from, the country. The law prohibits trafficking in persons with the aim of sexual abuse or forced labor and provides for imprisonment of up to eight years for those found guilty of these offenses. In February 2009 the Ministry of Social Affairs and Social Security released the results of a survey conducted to gauge the extent of violence against women. The survey indicated that 42 percent of the country&#39;s women had suffered physical or sexual violence or had been threatened with it since they were 16 years old.</div> <div> &nbsp;</div> <div> Women&rsquo;s aid groups reported evidence that foreign women were trafficked to the country to work in striptease clubs or massage parlors offering sexual services. A number of municipalities have banned private clubs that feature dancing, believed to serve as a front for prostitution and possibly trafficking. In March the parliament passed new licensing laws on the operations of entertainment establishments, which in effect outlawed strip shows as well as lap dances. The Baltic countries were the main countries of origin for women working in such clubs and parlors, with others coming from Central and Eastern Europe and Russia.</div> <div> &nbsp;</div> <div> Icelandic law provides that persons with disabilities receive preference for government jobs when they are at least as qualified as other applicants. But advocates for persons with disabilities asserted that the law was not fully implemented, and that such persons constituted a majority of the country&#39;s poor.</div> <div> &nbsp;</div> <div> <a href="http://www.state.gov/g/drl/rls/hrrpt/2009/eur/136036.htm"><font color="#0000ff">US State Department</font></a></div> <div> <a href="http://www.amnesty.org/en/region/europe-and-central-asia/western-europe/iceland"><font color="#0000ff">Amnesty International</font></a></div>
more
less
Past Ambassadors
<p> Lincoln MacVeagh</p> <div> Appointment: Aug 8, 1941</div> <div> Presentation of Credentials: Sep 30, 1941</div> <div> Termination of Mission: Left post, Jun 27, 1942</div> <div> &nbsp;</div> <div> Leland B. Morris</div> <div> Appointment: Aug 13, 1942</div> <div> Presentation of Credentials: Oct 7, 1942</div> <div> Termination of Mission: Relinquished charge, May 10, 1944</div> <div> &nbsp;</div> <div> Louis G. Dreyfus, Jr.</div> <div> Appointment: Mar 21, 1944</div> <div> Presentation of Credentials: Jun 14, 1944</div> <div> Termination of Mission: Reaccredited when Iceland became a republic; presented new credentials Aug 10, 1944; left post, Oct 21, 1946</div> <div> &nbsp;</div> <div> Richard P. Butrick</div> <div> Appointment: Feb 26, 1948</div> <div> Presentation of Credentials: Apr 29, 1948</div> <div> Termination of Mission: Left post, Aug 10, 1949</div> <div> &nbsp;</div> <div> Edward B. Lawson</div> <div> Appointment: Jul 22, 1949</div> <div> Presentation of Credentials: Sep 22, 1949</div> <div> Termination of Mission: Left post, May 29, 1954</div> <div> &nbsp;</div> <div> John J. Muccio</div> <div> Appointment: Aug 23, 1954</div> <div> Presentation of Credentials: Oct 12, 1954</div> <div> Termination of Mission: Promoted to Ambassador Extraordinary and Plenipotentiary</div> <div> &nbsp;</div> <div> John J. Muccio</div> <div> Appointment: Oct 19, 1955</div> <div> Presentation of Credentials: Nov 3, 1955</div> <div> Termination of Mission: Left post, Dec 16, 1959</div> <div> Note: Commissioned during a recess of the Senate; recommissioned after confirmation on Jan 25, 1956.</div> <div> &nbsp;</div> <div> Tyler Thompson</div> <div> Appointment: Jan 27, 1960</div> <div> Presentation of Credentials: Feb 19, 1960</div> <div> Termination of Mission: Left post, Apr 16, 1961</div> <div> &nbsp;</div> <div> James K. Penfield</div> <div> Appointment: Apr 27, 1961</div> <div> Presentation of Credentials: May 24, 1961</div> <div> Termination of Mission: Left Iceland, Mar 16, 1967</div> <div> &nbsp;</div> <div> Karl F. Rolvaag</div> <div> Appointment: Apr 5, 1967</div> <div> Presentation of Credentials: May 9, 1967</div> <div> Termination of Mission: Left post, Mar 27, 1969</div> <div> &nbsp;</div> <div> Luther I. Replogle</div> <div> Appointment: Jul 8, 1969</div> <div> Presentation of Credentials: Sep 12, 1969</div> <div> Termination of Mission: Left post, Jun 15, 1972</div> <div> &nbsp;</div> <div> Frederick Irving</div> <div> Appointment: Sep 11, 1972</div> <div> Presentation of Credentials: Oct 11, 1972</div> <div> Termination of Mission: Left post, Apr 21, 1976</div> <div> &nbsp;</div> <div> James J. Blake</div> <div> Appointment: Jul 1, 1976</div> <div> Presentation of Credentials: Sep 8, 1976</div> <div> Termination of Mission: Left post, Sep 29, 1978</div> <div> &nbsp;</div> <div> Richard A. Ericson, Jr.</div> <div> Appointment: Oct 12, 1978</div> <div> Presentation of Credentials: Nov 21, 1978</div> <div> Termination of Mission: Left post, Aug 15, 1981</div> <div> &nbsp;</div> <div> Marshall Brement</div> <div> Appointment: Jul 27, 1981</div> <div> Presentation of Credentials: Sep 16, 1981</div> <div> Termination of Mission: Left post, Aug 1, 1985</div> <div> &nbsp;</div> <div> Nicholas Ruwe</div> <div> Appointment: Jul 12, 1985</div> <div> Presentation of Credentials: Aug 21, 1985</div> <div> Termination of Mission: Left post, Oct. 7, 1989</div> <div> &nbsp;</div> <div> Charles Elvan Cobb, Jr.</div> <div> Appointment: Oct 10, 1989</div> <div> Presentation of Credentials: Nov 8, 1989</div> <div> Termination of Mission: Left post, Jan 10, 1992</div> <div> &nbsp;</div> <div> Sigmund A. Rogich</div> <div> Appointment: May 11, 1992</div> <div> Presentation of Credentials: Jun 4, 1992</div> <div> Termination of Mission: Left post, Oct 14, 1993</div> <div> &nbsp;</div> <div> Parker W. Borg</div> <div> Appointment: Oct 8, 1993</div> <div> Presentation of Credentials: Nov 24, 1993</div> <div> Termination of Mission: Left post, Jul 13, 1996</div> <div> &nbsp;</div> <div> Day O. Mount</div> <div> Appointment: Jun 11, 1996</div> <div> Presentation of Credentials: Sep 3, 1996</div> <div> Termination of Mission: Left post Aug 12, 1999</div> <div> &nbsp;</div> <div> Barbara J. Griffiths</div> <div> Appointment: Aug 9, 1999</div> <div> Presentation of Credentials: Sep 29, 1999</div> <div> Termination of Mission: Left post Jul 29, 2002</div> <div> &nbsp;</div> <div> James Irvin Gadsden</div> <div> Appointment: Oct 3, 2002</div> <div> Presentation of Credentials: Dec 9, 2002</div> <div> Termination of Mission: Left post, Jul 14, 2005</div>
more
less
Iceland's Ambassador to the U.S.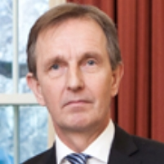 Stefánsson, Guðmundur Árni
The North Atlantic island-nation of Iceland, which is the only NATO country with no standing army, has sent Guðmundur Árni Stefánsson to be its ambassador to the United States. Stefánsson is a longtime Social Democratic politician who became a diplomat only seven years ago. He took over as ambassador October 1, 2011, and presented his credentials to President Barack Obama at the White House on January 18, 2012.
Stefánsson was awarded two ministerial portfolios, serving as minister of Health and Social Security (June 1993–June 1994) and minister of Social Affairs (1994). He was forced to resign these posts when an official report accused him of favoring friends and relatives, including awarding a research grant to a doctor who was no longer practicing medicine.
more
less
Iceland's Embassy Web Site in the U.S.
<p> <a href="http://www.iceland.org/us"><font color="#0000ff">Iceland&#39;s Embassy in the US</font></a></p>
more
less