U.N. Convenes to Discuss Danger of Killer Robots while Nobel Laureates Urge They Be Banned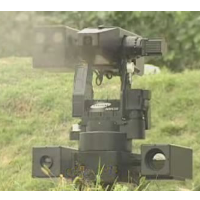 Autonomous South Korean armed robot (photo: South Korea demo video)
Automated warfare machines, or "killer robots," do not exist. But the possibility of them in operation—in the near future—is enough to worry many world leaders and Nobel laureates who have called for a ban on such technology.
At the United Nations in Geneva, diplomats will meet next week to discuss the Convention on Certain Conventional Weapons (CCW) with the aim of reaching an international agreement on prohibiting killer robots.
Many countries and weapons manufacturers are working on the next generation of drone technology that would limit, if not cut out, the need for human operators.
South Korea already has deployed surveillance robots along the demilitarized zone with North Korea that can fire built-in machine guns without a person in control, according to Foreign Affairs. Israel is working on a drone that can choose its own targets, while American defense contractor Northrop Grumman builds the X-47B drone that can fly to its destination without a pilot in charge. These precursors to killer robots were enough to prompt a group of Nobel laureates to issue a joint statement calling for the nations of the world to stop production now.
"It is unconscionable that human beings are expanding research and development of lethal machines that would be able to kill people without human intervention," the statement read.
They added: "Not all that long ago such weapons were considered the subject of science fiction, Hollywood and video games. But some machines are already taking the place of soldiers on the battlefield. Some experts in the field predict that fully autonomous weapons could be developed within 20 to 30 years; others contend it could even be sooner. With the rapid development of drones and the expansion of their use in the wars in Afghanistan and Iraq – and beyond, billions of dollars are already being spent to research new systems for the air, land, and sea that one day would make drones seem as quaint as the Model T Ford does today."
Human Rights Watch (HRW) also is advocating for a ban on the machines in a new report (pdf).
Steve Goose, HRW's arms division director, argues "human judgment is critically important to any decision to use a lethal weapon," which is why "governments need to say no to fully autonomous weapons for any purpose and to preemptively ban them now, before it is too late."
-Noel Brinkerhoff
To Learn More:
Should the World Kill Killer Robots Before It's Too Late? (by Ishaan Tharoor, Washington Post)
'Unconscionable': Nobel Winners Blast Development of 'Killer Robots' (by Lauren McCauley, Common Dreams)
Nobel Peace Laureates Call for Preemptive Ban on "Killer Robots" (Nobel Women's Initiative)
Shaking the Foundations: The Human Rights Implications of Killer Robots (Human Rights Watch) (pdf)
The Case against Killer Robots (by Denise Garcia, Foreign Affairs)
U.N. Calls for Global Ban on Autonomous Killer Robots (by Noel Brinkerhoff, AllGov)
Potential Robot Assault on the Human Race to be Studied by Cambridge Group (by Noel Brinkerhoff, AllGov)
On the Horizon: Real Killer Robots (by Noel Brinkerhoff and David Wallechinsky, AllGov)