Who Is Pentagon Going to Call to Fill Shortage of Air Force Drone Pilots? Private Contractors.
Tuesday, September 06, 2016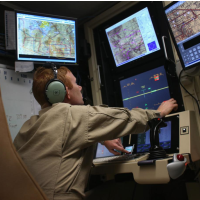 U.S. drone pilot operates Predator UAV from military base in Arizona (photo: John Moore, Getty)
By Michael S. Schmidt, New York Times
WASHINGTON — The U.S. military's extensive use of drones against the Islamic State and other terrorist groups has resulted in a shortage of Air Force pilots and other personnel to operate the aircraft, leading the Pentagon to rely more on private contractors for reconnaissance missions in Afghanistan and Iraq.
Since the Sept. 11, 2001, attacks, the Pentagon has used contractors to perform many duties traditionally carried out by uniformed personnel, like protecting military bases and feeding service members. The contractors who are now serving as drone pilots are based in the regions where the drones are flown, and they are legally prohibited from being "trigger pullers" and firing weapons, Air Force officials said. But there is no limit on the type of reconnaissance they can perform, and they are providing live video feeds of battles and special operations.
As the Obama administration has accelerated its campaign against the Islamic State in Iraq, Syria and Libya over the past 10 months, the Pentagon has added four drones flown by contractors to the roughly 60 that are typically flown every day by uniformed Air Force personnel.
Over the next two years, the Pentagon plans to add six more operated by contractors, the officials said. The number and identities of contractors working on the drone flights are considered classified information, the Air Force said. But Pentagon officials said there are at least several hundred contractors, many of them former drone or fighter pilots who are making double or triple their military salaries.
"This is opening up a whole new can of worms — we have seen problems with security contractors on the battlefield since 9/11, and there's been an improvement in oversight in that area, but that came after a decade of problems," said Laura A. Dickinson, a law professor at George Washington University, who has written extensively about the United States' use of military contractors. "With drones, this is a new area where we already do not have a lot of transparency and with contractors operating drones there's no clearly defined regime of oversight and accountability."
Drones were first used extensively by the U.S. military in the Balkans in the 1990s. By the mid-2000s, the Air Force was flying more than a dozen drones a day in Iraq, Afghanistan, Pakistan and elsewhere. The number of flights rose steadily to about 60 in 2010, when the military began plans to scale back because the war in Iraq was winding down.
But in 2014, President Barack Obama ordered a stepped-up military campaign against the Islamic State in Iraq and Syria. Later that year, Obama, who had said that a small number of troops remaining behind in Afghanistan would have no combat role, decided to authorize a more expansive mission for them.
The Air Force was not prepared for this increased demand. Finding pilots was difficult. They typically work long hours in windowless rooms staring at computer monitors and do not get many days off. Many of those who fly armed drones have been found to have post-traumatic stress disorder because they have witnessed so many airstrikes. There is also a powerful perception in the Air Force that drone jobs are less prestigious and glamorous than flying more traditional military aircraft, and recruitment has been hard.
The pilots have also become targets for terrorists who say drones have been used to indiscriminately kill civilians.
This past spring, the Islamic State released a detailed list of several dozen senior Air Force officers who the group said were connected to the drone program. The list included photographs of the officers, their home addresses and other personal information.
Operating drones requires an extensive support network. One pilot and a camera operator typically control a drone, and since a drone is expected to be constantly in the air, each one must have several crews. The analysis of the footage taken in by the drones is even more labor intensive. For every drone, there is a need for up to four dozen analysts who can look at the many hours of footage to assess the targets and other intelligence.
With little alternative, the Air Force initiated a "get-well plan" in January 2015 that included several measures — among them an increase in pay — to try to alleviate the significant "stress on the force" that had developed.
"Airmen have delivered time-critical data, prosecuted targets and supported combatant commanders without fail but we cannot sustain this pace indefinitely," Deborah Lee James, the secretary of the Air Force, said at the time. "While threats have evolved, the demand for this capability remains constant."
Both armed drones and those only involved in surveillance have led to significant success on the battlefield, but the Obama administration has been widely criticized for not being transparent about their use.
Air Force officials said there are many safeguards in place to train and monitor contractors. But the officials declined to provide many details about the flights, including where the contractors are deployed and which companies are operating the flights.
The officials also declined to address the role that contractors play in a select group of highly classified drone flights that the Air Force conducts daily for the CIA. Air Force pilots, who are essentially on loan to the CIA, fly those drones while the agency does its own preflight target planning and post-mission analysis.
Erika Yepsen, a spokeswoman for the Air Force, said the missions flown by the contractors "have oversight from both a government flight representative and a government ground representative."
She added: "Additionally, planning and execution of these missions are carried out under the same oversight currently provided for military aircrews, and the resulting sensor information will be collected, analyzed, transmitted and stored as appropriate by the same military intelligence units."
But the Air Force would not disclose many details about the drone contractors. Contractors are typically compensated far more than service members, and some current and former senior Air Force officials said that their use could actually exacerbate the shortage in military drone pilots because the pay of the private sector may lure them away.
"The Air Force is the one creating unmanned pilots who have experience — there is nowhere else to draw on pilots from," said Frederick F. Roggero, a retired major general.
Roggero, after his Air Force career, became president and chief executive of Resilient Solutions, which provides consulting on unmanned aircraft safety and security. He compared the situation to after World War I.
"We are at the same point now culturally — the only pilots with drone experience are coming from the Air Force and that industry is going to experience exponential growth for unmanned pilots," he said, adding that it would create a new demand that will lure them away from the military.
To Learn More:
Air Force Adds Civilian Contractors to Drone "Kill Chain" (by Noel Brinkerhoff and Steve Straehley, AllGov)
Pentagon Outsourcing Spy Missions to Drone Maker (by Noel Brinkerhoff, AllGov)
Little Chance of Promotion or Respect Fuels Drone Pilot Shortage in U.S. Air Force (by Noel Brinkerhoff, AllGov)
U.S. Drone Killing Program Threatened by Disconnect between Contractors and Military (by Noel Brinkerhoff and David Wallechinsky, AllGov)