Pentagon Outsourcing Spy Missions to Drone Maker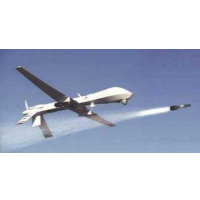 Predator Drone Firing a Hellfire Missile
The Department of Defense wants to increase its drone operations, which is difficult when military drone pilots burn out of their jobs at a faster rate than they can be trained. So the Pentagon is turning to drone manufacturers for help.
General Atomics, the company that makes the Predator and Reaper drones, has contracted with the Defense Department to conduct surveillance missions for the military. The contractor started flying drones on spy missions this month.
The Pentagon has used another drone maker to fly missions, according to Patrick Tucker of Defense One. Boeing, which builds the small unarmed ScanEagle drone, also conducts some missions for the agency. The General Atomics deal moves contractor involvement to another level, however. Its drones are larger and are capable of launching Hellfire missiles.
The Wall Street Journal reported that government contractors would be used to fly "older Predator drones on as many as 10 flights a day, none of them strike missions."
The Pentagon turned to General Atomics because it wants to "boost its drone presence by 50 percent in four years," Tucker wrote. The Air Force says it needs help from contractors because although it brings in 180 new pilots every year, it needs about 300 of them and loses about 240 because of attrition, according to Military.com.
Predator drones have been used to kill about 3,000 people, according to some estimates.
-Noel Brinkerhoff
To Learn More:
Predator Drone Maker General Atomics Flying Spy Missions For the Pentagon (by Patrick Tucker, Defense One)
Encouraging Arabs and other Muslims to Kill each other is Good for U.S. Weapons Industry (by Noel Brinkerhoff, AllGov)
Military Clashes with U.S. Spies over Outsourcing of Satellite Surveillance (by Noel Brinkerhoff and David Wallechinsky, AllGov)