U.S. has Military Bases in at least 38 Countries and Sent Weapons to 94 Countries in Last 5 Years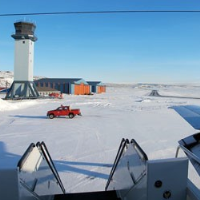 Thule Air Base in Greenland (photo: Jim Yungel, NASA)
The old recruiting slogan was "Join the Navy and See the World." Those advertisements were prescient; the U.S. military has a presence of some kind in 171 nations and jurisdictions in addition to the United States and its possessions.
Many times the presence is one officer as a military attaché or similar post or even a military dependent. But some countries host significant numbers of members of the U.S. armed forces.
The two countries hosting the most members of the U.S. military are the two the U.S. conquered in World War II. There were 49,503 members of the military in Japan as of the end of last year, according to the Department of Defense. Germany was next with 38,826 members of the U.S. armed forces stationed there.
Although it's difficult to nail down the exact worldwide number of U.S. military sites, the most recent Department of Defense report lists buildings in 38 foreign nations and territories. The U.S. has 179 bases in Germany and 109 installations in Japan.
Other countries have much smaller U.S. contingents. Greenland is the home of 142 lucky Air Force personnel. Fourteen members of different military branches are now stationed in Vietnam, 40 years after U.S. troops abandoned the ill-fated war there. And there's likely a very short line at the PX in Mongolia; only four U.S. military personnel are stationed in that land-locked Asian nation.
Indeed, U.S. bases can come in a variety of shapes and sizes, according to David Vine, author of Base Nation: How US Military Bases Abroad Harm America and the World. They include "small radar facilities in Peru and Puerto Rico….Even military resorts and recreation areas in places like Tuscany and Seoul are bases of a kind; worldwide, the military runs more than 170 golf courses."
Even where the U.S. doesn't send military personnel, the U.S. does send weapons. The United States is the world largest arms exporter. From 2010 to 2014, Americans sent weapons to at least 94 countries, according to a report (pdf) by the Stockholm International Peace Research Institute (SIPRI). The country that got the largest share of the weaponry was South Korea, at 9%, followed by the United Arab Emirates at 8% and Australia at 8%. The United States accounts for 31% of the world's arms exports, followed by Russia at 27% and China at 5%.
-Steve Straehley
To Learn More:
These Are All the Countries Where the U.S. Has a Military Presence (by Annalisa Merelli, Quartz)
Base Structure Report: Fiscal Year 2014 Baseline (Department of Defense) (pdf)
Trends in International Arms Transfers, 2014 (by Pieter D. Wezeman and Siemon T. Wezeman, SIPRI) (pdf)
U.S. Will Close 15 Military Bases in Europe, but Keep Troop Levels the Same (by Steve Straehley, AllGov)
U.S. Dominates Weapons Export Market as Profits Grow with Sales to the Middle East (by Noel Brinkerhoff, AllGov)