U.S. has 5% of World's Female Population, but 30% of Women in Prison
Sunday, November 22, 2015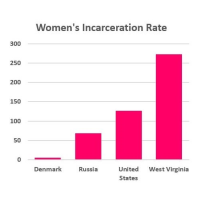 (graphic: Steve Straehley, AllGov)
The United States imprisons more of its population than any other country. A new report points out that women are no exception from this dubious honor.
Information from the Prison Policy Initiative shows that the United States incarcerates almost 30% of the worldwide total of jailed women. That's twice the percentage who are imprisoned in China and four times the rate of Russia.
"When compared to jurisdictions across the globe, even the U.S. states with the lowest levels of incarceration are far out of line," stated the report. Nationwide, there are 127 women jailed per 100,000 population, just less than Thailand's rate of 130. The state with the highest percentage of incarcerated women is West Virginia, with 273. Rhode Island trails all other states with a rate of 39, just one more than Kazakhstan's 38. The report's authors also point out that Illinois, with a rate of 88, has a higher rate than El Salvador, where abortion is illegal and women are often jailed for having miscarriages.
The U.S. women's incarceration rate has climbed steeply, according to the report. "In the U.S., we are not only incarcerating women far more than nearly all other nations, but we are also incarcerating women far more than we have done in the recent past. The sudden growth of incarceration in our country has been staggering; our incarceration rate nearly tripled between 1980 and 1990," the report said.
-Steve Straehley
To Learn More:
States of Women's Incarceration: The Global Context (by Aleks Kajstura and Russ Immarigeon, Prison Policy Initiative)
Judges Go Easier on Female Defendants…Unless They're Thieves (by Noel Brinkerhoff and Steve Straehley, AllGov)
Drug War is Filling Prisons with Women (by Noel Brinkerhoff and Steve Straehley, AllGov)