Drug War is Filling Prisons with Women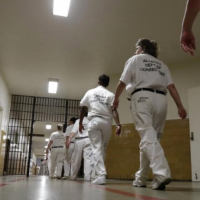 (photo: Dave Martin, AP)
U.S. prisons are still mostly occupied by men, but women are getting thrown behind bars at a much faster rate these days, largely because of the war on drugs.
In more than 40 states, the incarceration rate for females is growing faster than that of males, according to federal statistics compiled by Huffington Post. The change in incarceration rates for women in Idaho, North Dakota and West Virginia has eclipsed 400%, based on changes that took place from 1992 to 2012.
The steady increase in female incarceration can be attributed in large part to drug-related convictions. In the federal prison system, 57% of female inmates have a drug offense as their most serious offense, while the rate for male prisoners is 47%. Among state inmates, the percentage of women with a drug conviction is 25%, but only 16% for men.
Ohio officials say much of the increase they've seen in female inmates has been due to a rise in opioid use, with women also often used as drug mules.
Emily Thomas of Huffington Post also reported that the number of children with a mother in prison more than doubled between 1991 and 2007, from 63,900 to 147,400. And many women who have children while in custody face being shackled during the childbirth process. Twenty-nine states and the District of Columbia allow the practice, which medical professionals and human rights groups call unnecessary and potentially harmful to both mother and child. Shackled women can't properly position their bodies to deal with labor pains and those delivering the child can't position the mother correctly and can have difficulty performing emergency C-sections.
-Noel Brinkerhoff, Steve Straehley
To Learn More:
The Number of Women Behind Bars Is Skyrocketing, and Here's the Upsetting Result (by Emily Thomas, Huffington Post)
More Ohio Women in Prison than ever before (by Jona Ison, Mansfield News Journal)
A Closer Look at Prison Sterilizations and the Doctor Said to Champion Them (by Ken Broder, AllGov California)
Giving Birth in Prison (by Kyle Kuersten, AllGov)