Judges Go Easier on Female Defendants…Unless They're Thieves
Sunday, November 15, 2015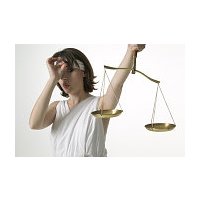 (graphic: Photodisc/Getty Images)
Women criminals more often than not receive shorter prison sentences than men, according to a new study.
Research published in the Journal of Criminal Justice showed women were 58% less likely to be sentenced to prison than men. An exception was women convicted of theft, who were given longer sentences than men. But women convicted of other property offenses, such as arson, receiving stolen property and breaking and entering, received shorter prison sentences than men.
Female defendants might get more lenient treatment when they conform to the traditional gender roles of housewife and mother, the researchers hypothesized. Natalie Goulette of the University of West Florida and John Wooldredge, James Frank and Lawrence Travis III of the University of Cincinnati found support for the "evil woman" theory, which suggests that this "chivalry" is reserved for certain groups of women who appear to be docile and in need of protection, according to Journalist's Resource.
The researchers also found women were 46% less likely to be detained before trial than men, with women given 54% lower bond amounts.
-Noel Brinkerhoff, Steve Straehley
To Learn More:
Are Criminal Courts More Lenient on Women? (by Chaz Kelsh, Journalist's Resource)
From Initial Appearance to Sentencing: Do Female Defendants Experience Disparate Treatment? (by Natalie Goulette, John Wooldredge, James Frank, and Lawrence Travis III, ScienceDirect) (abstract)
Gender and Sentencing in the Federal Courts: Are Women Treated More Leniently? (by Jill K. Doerner, Criminal Justice Policy Review) (abstract)
An Examination of Defendant Sex Disparity in Capital Sentencing: A Propensity Score Matching Approach (by Tara N. Richards , M. Dwayne Smith, Wesley G. Jennings, Beth Bjerregaard, Sondra J. Fogel, American Journal of Criminal Justice) (abstract)
148 California Female Prison Inmates Were Illegally Sterilized (by Ken Broder, AllGov California)