U.S. Coal Production Falls to Lowest Level in 30 Years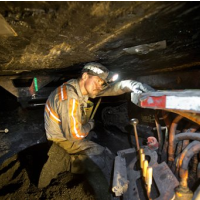 Coal miner at work in Welch, West Virginia (AP photo)
WASHINGTON (AP) — U.S. coal production has fallen to its lowest level in nearly 30 years as cheaper sources of power and stricter environmental regulations reduce demand, according to preliminary government figures.
A report released Friday by the U.S. Energy Information Administration estimates 900 million short tons of coal were produced last year, a drop from about 1 billion short tons in 2014. That's the lowest volume since 1986.
The slump has led to bankruptcies and layoffs at mining companies, but the effects have rippled outward, stressing state budgets and forcing layoffs in other sector such as railroads, which are transporting less coal.
Power plants are increasingly relying on cheaper and cleaner-burning natural gas to provide electricity and comply with regulations aimed at reducing pollution that contributes to climate change. The average daily spot price for natural gas at the benchmark Henry Hub fell to $2.61 per million British thermal units last year, a 40 percent decrease from 2014, according to the government report.
A sweeping agreement adopted last month by nearly 200 countries determined to further reduce greenhouse gas emissions is likely to make coal an even less viable choice in the decades ahead.
Last year's drop in demand hit hardest in the central Appalachian basin, where production plunged 40 percent below its annual average from 2010 through 2014, according to the report.
The U.S. coal industry didn't get any help overseas last year either, as exports to the United Kingdom, Italy and China plummeted by more than 50 percent. Overall, U.S. exports of coal dropped by about 21 percent last year, the report estimated.
To Learn More:
U.S. Coal Production Drops to 20-Year Low (by Noel Brinkerhoff, AllGov)
More Americans Work for Solar Companies than for Coal Mining (by Noel Brinkerhoff, AllGov)