More Americans Work for Solar Companies than for Coal Mining
Tuesday, January 20, 2015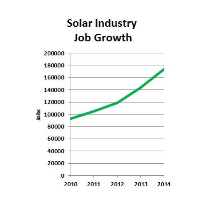 (graphic: Steve Straehley, AllGov)
The solar industry in the United States is growing in leaps and bounds, so much so that it now employs more Americans than the coal business.
The Solar Foundation, which supports solar power, claims in a new report that more than 173,000 people had solar-related jobs as of last year. The coal industry had only about 93,000 workers.
Job growth in solar has been phenomenal, expanding by 20% or more in each of the last two years. In 2014, it added 31,000 new jobs and solar businesses plan to add another 36,000 employees this year, according to Fortune.
"That's just insane," Lyndon Rive, CEO of SolarCity, told Fortune. "The solar industry is literally contributing to the job growth of the U.S. economy—and it's just so understated."
One out of 78 jobs created in the United States over the past year were created by the solar industry, according to The Solar Foundation.
"The tremendous growth in the solar industry last year, including job growth that is outpacing the national average, is further evidence that we can clean our air and cut climate pollution while also growing the economy," former New York Mayor Michael Bloomberg said in a Solar Foundation release.
-Noel Brinkerhoff
To Learn More:
In U.S., There Are Twice as Many Solar Workers as Coal Miners (by Kirsten Korosec, Fortune)
Tracking Solar Jobs (Solar Foundation)
Table 18. Average Number of Employees by State and Mine Type, 2012 and 2011 (Energy Information Administration) (pdf)