U.S. Coal Production Drops to 20-Year Low
Saturday, February 07, 2015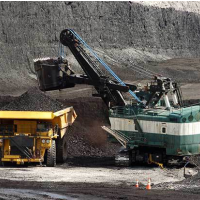 (photo: Matthew Brown, AP)
Coal production has fallen below 1 billion tons for the first time since 1993, according to a federal report.
Production in 2013 fell to 984.8 million tons, a 3.1% decline from 2012, when production was 1.02 billion tons, according to the U.S. Energy Information Administration (EIA).
The EIA report (pdf) says production was down in both the Appalachian and Western regions, but up in the interior. West Virginia, the nation's biggest coal producer, saw its production go down by about 4.5 million tons.
Despite the production drop, coal companies have made up some money by not paying all the required royalties to the federal government. The Bureau of Land Management (BLM) and the Office of Natural Resources Revenue, which oversee the government's coal leasing program, took in only 4.9% of the gross market value of coal from 2008 to 2012, according to a report from Headwaters Economics. The government is supposed to collect royalties of 12.3%, but settles for less, the report said.
-Noel Brinkerhoff
To Learn More:
Annual Coal Report 2013 (U.S. Energy Information Administration) (pdf)
An Assessment of U.S. Federal Coal, Royalties (Headwaters Economics) (pdf)