The Myth of Widespread Voter Fraud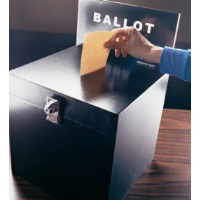 (photo: Digital Vision/Getty Images)
By Matthew Renda, Courthouse News Service
SAN FRANCISCO (CN) – Despite sharp differences of opinion on a variety of issues related to the nexus of elections and the court system, a panel of experts at the Ninth Circuit's judicial conference agreed on one thing: the type of voter fraud President Donald Trump claims is widespread is virtually nonexistent.
Professor Richard Hasen, co-editor of the Election Law Journal, Ann Ravel, a law professor and former chair of the Federal Elections Commission and Bradley Smith, a professor who also formerly chaired the FEC, discussed some of the most pressing issues regarding voter confidence, campaign finance, gerrymandering and the attempts by foreign entities to influence American elections during the conference on Tuesday.
Smith reliably played the conservative foil to more progressive positions forwarded by Hasen and Ravel during the two-hour session held in San Francisco, but even he said impersonation fraud that Trump blamed for his loss in the popular vote is negligible.
"Voter fraud is a real but small problem in the United States," Smith said, adding there is more rhetoric than substance to the issue. "I liken it to two bald guys fighting over a comb."
Voter fraud does exist in small numbers as the conviction of Rosa Maria Ortega in Texas demonstrates – but its actual effect on local, state and national elections is virtually nil, the panelists agreed.
"Impersonation fraud doesn't happen very often," Hasen said. "I analyzed elections going back to the 1980s and I couldn't find a single instance where people used this type of fraud to swing an election."
More common is absentee-ballot fraud, where people either steal or in some cases buy absentee ballots. Another common type of fraud that has the most impact on the outcome is when election officials themselves execute a fraudulent scheme.
This took place in Cudahy, California, in 2012, when city officials counting the ballots placed ballots for the incumbents in one pile and then disposed of ballots cast for challengers.
"This only happens when there are not enough people around to police the election process," Hasen said.
The consensus around the issue was a tacit rebuke to Trump and some of his allies, including Kansas Secretary of State Kris Kobach, who also serves as vice chair for the Presidential Advisory Commission on Election Integrity – a panel created by Trump to investigate the president's widely debunked claims regarding voter fraud.
On Tuesday, four Democratic lawmakers sent a letter (pdf) to Vice President Mike Pence asking him to remove Kobach from the commission. They said his request for voter rolls replete with sensitive voter information was rife with privacy concerns.
"The clear majority of our state election administrators – including numerous Republican elected officials – oppose the vice chair's request, which was made directly after a secretive, unofficial meeting of the commission's members," the letter, signed by Democrats John Conyers, Elijah Cummings, Bennie Thompson and Robert Brady, said.
The lawmakers argued the data request was in bad faith and will more likely be used for voter suppression rather than any legitimate inquiry into a problem most experts agree does not exist.
Ravel said during the panel that the inclusion of portions of social security numbers, last names, addresses, and phone numbers could be an assist to identity thieves and make voters more susceptible to criminal activity.
The voter-fraud commission has led to some people unregistering over those concerns.
"That information can be used for nefarious purposes and is therefore an intrusion," Ravel said.
Perhaps the biggest flashpoint of contention between Smith and his counterparts came over campaign finance disclosure.
Smith said disclosure can have a chilling effect on people who would otherwise donate to campaigns, because people are forced to reveal their political affiliations when they donate money to candidates or campaigns.
Perhaps the most salient example is Mozilla CEO Brendan Eich, who resigned under pressure after it was revealed he donated millions of dollars to Proposition 8 in California, which succeeded in making same-sex marriage illegal in 2008.
"Disclosure impacts some people," Ravel said.
But the professor also said the courts have done an appropriate job of holding tension between the chilling effect of disclosure and the public's right to know where candidates are getting money from.
"The courts have indicated it is useful to prevent corruption and provide accountability to the public," Ravel said.
Despite the title of "Public Confidence in the Election," all three panelists steered clear of discussing suspicions of Russian interference in the election and whether or not Trump and members of his campaign colluded with the Russian government to undermine Hillary Clinton's campaign.
Instead, the panelists focus on aforementioned topics and some of the most hot-button issues that come before courts, including legal challenges to voter ID laws and gerrymandering.
Hasen argued the court's deliberative process toward challenging voter ID laws has harmed the public interest, using the example of the Texas law that required identification to vote.
The Department of Justice put the Texas law on hold as the case has gone back and forth between appellate courts and the Supreme Court, and is still pending while elections continue to happen. A Texas court did rule that the voter ID law, passed strictly along partisan lines in the Texas Legislature, was passed with the intent of discriminating against minorities.
The panelists all argued the courts have an enormous role to play in sorting out the legality of voter ID laws as they are implemented in more and more states.
"There is more evidence that voter ID laws are making a difference in elections at the margins," Hasen said.
Another major election-related issue where the courts will play a role relates to the issue of gerrymandering.
While the Supreme Court and lower courts have routinely held that gerrymandering for the express purpose of reducing the impact of minority voters is unconstitutional, the Supreme Court has taken up a case that addresses gerrymandering on a partisan basis.
A lower court found Wisconsin's 2011 redistricting plan unconstitutional, which the state promptly appealed. The case is slated for the high court's next session, and similar cases are pending in North Carolina and Maryland.
"Partisan gerrymandering is often racial gerrymandering in disguise," Hasen said during the panel discussion.
But Smith seemed unconvinced there was any legal standard to apply to the cases, and that if the Supreme Court were to rule against Wisconsin it would open an "avalanche of litigation."
To Learn More:
Trump's "Voter Fraud Panel" Runs into Legal Problems (by Britain Eakin and Jon Parton, Courthouse News Service)
Voter Impersonation: 31 Possible Cases out of 1 Billion Ballots Cast (by Noel Brinkerhoff and Steve Straehley, AllGov)
Investigation Turns Up Only 10 Cases of Voter Impersonation Nationwide…in 10 Years (by Noel Brinkerhoff, AllGov)
Court Rules Republican National Committee Must Still be Monitored for Voter Fraud (David Wallechinsky and Matt Bewig)