Texas Judge Strikes Down Voter ID Law in 150-Page Ruling That Recounts State's History of Discrimination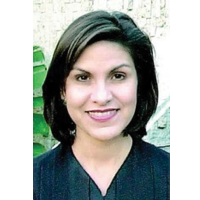 Judge Nelva Gonzales Ramos (photo: txstate.edu)
Texas' latest attempt to restrict members of minority groups from exercising their right to vote was an identification law that required certain forms of ID in order to cast a ballot. That law was struck down in early October by a U.S. district court judge who provided a lesson in Texas' long history of discrimination in her opinion.
Judge Nelva Gonzales Ramos ruled (pdf) that Texas' law that allowed driver's licenses, gun licenses and special state IDs, but not student IDs, birth certificates or other forms of identification had the same chilling effect on voting as a poll tax. Texas used such taxes until the mid-1960s, when a constitutional amendment banned them and subsequent attempts to impose them were ruled unconstitutional.
Poll taxes weren't Texas' only way to discriminate against minority voters. Literacy tests, yearly reregistration requirements and gerrymandering have all been employed to depress turnout of African-American and Hispanic voters in the state, as Gonzales Ramos outlined.
"This history describes not only a penchant for discrimination in Texas with respect to voting, but it exhibits a recalcitrance that has persisted over generations despite the repeated intervention of the federal government and its courts on behalf of minority citizens," Gonzalez Ramos wrote.
Until key portions of the Voting Rights Act were gutted last year by a conservative majority on the U.S. Supreme Court, the Department of Justice (DOJ) could block attempts at suppressing minority voting in the state. However since then, states have been able to enact discriminatory legislation. The DOJ and other parties are only able to sue to stop the policy after it goes into effect.
"This decision will eliminate an unnecessary and discriminatory barrier to the ballot box for hundreds of thousands of Texans," Myrna Perez of the Brennan Center for Justice said, according to NBC News. "Elections in Texas will now be more free, fair, and accessible than they were a year ago."
Texas Attorney General Greg Abbott (R), who is running for governor this year, has vowed to appeal the ruling "to avoid voter confusion in the upcoming election."
-Steve Straehley
To Learn More:
Texas Judge Recites State's History of Discrimination (by Manny Fernandez, New York Times)
Latina Judge Strikes Down TX Voter ID, Blasts History of 'Discrimination' (by Sandra Lilley, NBC News)
Marc Veasey, et al, vs. Rick Perry, et al (U.S. District Court, Southern District of Texas) (pdf)
Federal Courts Versus Republican Efforts to Limit Voting: Texas (by Noel Brinkerhoff, AllGov)
Federal Judges Reject Texas Redistricting as Anti-Minority (by Noel Brinkerhoff and David Wallechinsky, AllGov)