Trump's "Voter Fraud Panel" Runs into Legal Problems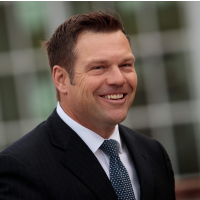 Kris Kobach (photo: Getty Images)
By Britain Eakin and Jon Parton, Courthouse News Service
(CN) – Kansas Secretary of State Kris Kobach faces increasing heat in the week since he sent letters to all 50 states asking for extensive information of registered voters, in the form of a lawsuit fighting his request and claims by a lawyers' group that he violated a federal campaigning law.
Filed on July 3 by the Electronic Privacy Information Center, or EPIC, the lawsuit (pdf) comes just days after all secretaries of state received a June 28 letter from the Presidential Advisory Commission on Election Integrity, asking them to submit publicly available state voter data.
All the letters are signed by Kobach, whom Trump appointed as vice chair of the commission he established in May by executive order. They ask for full names, addresses, dates of birth, political party affiliation, partial Social Security numbers, elections voted in since 2006, voter status, felony convictions, military status, overseas information and multistate voter registration.
Kobach also wants the states to produce any evidence and information related to documented cases of voter fraud since the November 2000 federal election.
He has indicated that all of the data collected would be made publicly available, but EPIC claims that the commission failed to conduct a privacy assessment first.
"More than 50 experts in voting technology and twenty privacy organizations wrote to state election officials to warn that '[t]here is no indication how the information will be used, who will have access to it, or what safeguards will be established,'" the complaint states.
EPIC notes that the E-Government Act of 2002 requires any agency that initiates new information collection using information technology to assess what information will be collected and why, who it will be shared with, what notice will be provided to individuals whose data is shared, and how the information will be secured.
On the latter point, the lawsuit calls into question the security of one of two methods by which the letters ask state election officials to submit the information.
"The 'SAFE' URL, recommended by the commission for the submission of voter data, leads election officials to a non-secure site," the complaint states.
As of press time Wednesday, this URL brings up a warning that "attackers might be trying to steal your information."
To date, 44 states have refused to comply with the request, with some secretaries of state, including Alex Padilla of California, saying that compliance would only pay lip service to Trump's already debunked claims of large-scale voter fraud.
As noted in the lawsuit, Padilla said he would "not provide sensitive voter information to a committee that has already inaccurately passed judgment that millions of Californians voted illegally."
Kentucky Secretary of State Alison Lundergan Grimes, who likewise refused to provide the data, echoed the sentiments of the NAACP that the commission would "attempt to legitimize voter-suppression efforts across the country."
The NAACP has called the commission's letters illegal and a threat to democracy. We "believe that this request represents only the first salvo in a move to implement the widespread suppression of American voters, the possible purging of the rolls and a rollback of our constitutionally guaranteed voting rights," the group said in a statement.
Trump made his first claim of voter fraud on Nov. 27, tweeting that he lost the popular vote to Hillary Clinton because millions of people voted illegally.
Numerous studies have disproved allegations of massive voter fraud. One conducted by the nonpartisan Brennan Center for Justice at the New York University School of Law reported that an American is more likely to be struck by lightning than to impersonate someone else while voting.
The Brennan Center says Kobach has long supported voter-suppression efforts and that the commission is not authorized to compel voter information from states.
In an 8-page assessment (pdf) of the legal risks associated with the requests, it cautioned that states could violate provisions of state or federal laws if they choose to comply.
That includes laws that require notice of disclosure, that limit the use of voter information and that impose confidentiality restrictions.
While stating its general support of state efforts to share public information as part of research, it called the requests "unusual" for the risk imposed on sensitive voter information.
"Accordingly, chief election officers, and their legal counsel, should carefully consider state and federal law, and the implications of the Commission's request before responding," the assessment states.
The Electronic Privacy Information Center did not respond to an email seeking comment on the lawsuit. In addition to a temporary restraining order, EPIC wants the commission to securely delete any voter information it collects and conduct a privacy assessment.
Though the White House also has not responded to an email seeking comment, Trump questioned the commission's opponents on Twitter.
"Numerous states are refusing to give information to the very distinguished VOTER FRAUD PANEL," he tweeted on July 1. "What are they trying to hide?"
When asked for comment, Kobach's spokeswoman Samantha Poetter said inquiries would be handled by the White House.
The government's response to the lawsuit is due Wednesday by 4 p.m.
U.S. District Judge Colleen Kollar-Kotelly is presiding over the case.
EPIC said it expects a ruling on the temporary restraining order by the end of the week.
The lawsuit names as defendants the Presidential Advisory Commission on Election Integrity; Secretary Kobach; the Executive Office of the U.S. president; Vice President Michael Pence, who chairs the commission; the U.S. Vice President's Office; and the General Services Administration.
Also Monday, a lawyers' group asked the federal Office of Special Counsel to investigate whether Kobach violated federal law by promoting his commission work in his Kansas gubernatorial bid.
The nonprofit civil rights group Lawyers' Committee Civil Rights Under Law claims Kobach violated the Hatch Act (pdf), a 1939 law that prohibits executive-branch employees from using their influence to interfere with an election.
"Kris Kobach appears to be using his official role as head of the so-called 'Election Integrity Commission' to promote his candidacy for governor of Kansas," Kristin Clarke, president and executive director of the group, said in a statement. "The Hatch Act's central purpose is to prevent federal employees from using their official position for electoral purposes."
Poetter said the claim has no merit.
"We are certain that no Hatch Act violations have occurred," Poetter said in an email to the Kansas City Star. "This is nothing but a bunch of liberal lawyers trying to create a story."
The civil rights group cited Kobach's appearances – in his capacity as vice chair of Trump's commission – on Fox News and MSNBC, which were then posted on his campaign website.
Kobach's campaign website also makes written references to his role on Trump's commission.
The group asks the Office of Special Counsel to investigate Kobach's actions and also to make a determination as to whether the "apparent violations" were willful.
"Mr. Kobach explains on his own campaign website that he served as a senior attorney in the U.S. Department of Justice for several years, and therefore he surely is aware of the legal requirements under the Hatch Act," the group wrote. "Given that awareness, and the sheer number of apparent violations in this case, there are serious questions whether Mr. Kobach knowingly disregarded the law, and the appropriate disciplinary measures if he did. In Mr. Kobach's own words, 'respect for rule of law is essential to our country.'"
To Learn More:
Top Kansas Official under Fire for Errors in Kansas Spanish-Language Voter Guides (by David Lee, Courthouse News Service)
Kansas Officials Fight to Hide Voting Machine Records (by Noel Brinkerhoff, AllGov)
Voter Impersonation: 31 Possible Cases out of 1 Billion Ballots Cast (by Noel Brinkerhoff and Steve Straehley, AllGov)
International Observers to Monitor U.S. Election for Voter Suppression (by Noel Brinkerhoff and David Wallechinsky, AllGov)
Investigation Turns Up Only 10 Cases of Voter Impersonation Nationwide…in 10 Years (by Noel Brinkerhoff, AllGov)
Court Rules Republican National Committee Must Still be Monitored for Voter Fraud (David Wallechinsky and Matt Bewig)