Civil Liberties Group Sues Fed over Counter-Terrorism Program Seen as Damaging to Muslims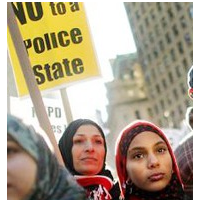 Muslims demonstrate in New York City (photo: Mario Tama, Getty Images)
By Dustin Volz and Mark Hosenball
WASHINGTON (Reuters) - A civil liberties group said on Friday it has sued the U.S. government for more information about a federal program that tries to enlist Americans in helping to identify and discourage violent extremism in their communities.
The Brennan Center for Justice at New York University said it filed the lawsuit in federal court in Manhattan to force the Justice Department and the Department of Homeland Security to release records about their "Countering Violent Extremism" (CVE) program. Critics for years have questioned its effectiveness.
The Brennan Center said the program relies on a flawed approach to counter terrorism that "all but ensures" it will stigmatize Muslims and reinforce Islamophobic stereotypes, suppress dissent, and sow discord in communities.
Spokespeople for Homeland Security and the Justice Department were not immediately available to comment.
The agencies set up a task force in January to boost the effort and other agencies have launched initiatives of their own. These actions came after President Barack Obama in 2011 unveiled a plan for "empowering local partners to prevent violent extremism in the United States."
At the same time, the government has pressured Silicon Valley to more forcefully limit the proliferation of extremist communications online.
Over the past year, Facebook taken steps to more aggressively remove content. The company, which boasts 1.5 billion users, is also helping to fund an initiative led by Homeland Security and the State Department to outsource creation of online counter-messaging to college students.
Last year Congress allocated some $40 million for CVE, above the several hundred thousand dollars aides said the Obama administration had requested to cover travel expenses to meet with communities around the country. Roughly $10 million to $15 million is for state and local governments, aides said.
The program has been hampered by bureaucratic infighting, as some experts have advocated enlisting ultra-orthodox, nonviolent Islamic activists and scholars in deradicalization efforts. Other experts have argued that such activists sometimes help indoctrinate violent militants.
To Learn More:
Muslim Surveillance Lawsuits Settle with No NYPD Admission of Wrongdoing or Damages Paid, Just a Promise to Stop Spying (by Tom Hays, Associated Press)
FBI Anti-Extremism Program Criticized for Targeting Muslims Over Right-Wing Extremists (by Noel Brinkerhoff, AllGov)
Republican Debates Ignore Homegrown Right-Wing Extremist Attacks, Focusing Instead on Lesser Domestic Threat of Islamic Terrorism (by Noel Brinkerhoff and Steve Straehley, AllGov)
Since 9/11, More Americans have been Killed by Right-wing Extremists than by Muslim Jihadists (by Noel Brinkerhoff and Danny Biederman, AllGov)
Judge Throws Out Lawsuit against NYPD for Spying on Muslims, Faults the Press for Reporting It (by Noel Brinkerhoff, AllGov)
Homeland Security Dept. Slashes Investigations of Non-Islamic Terrorism (by Noel Brinkerhoff and David Wallechinsky, AllGov)