FBI Anti-Extremism Program Criticized for Targeting Muslims Over Right-Wing Extremists
Wednesday, November 04, 2015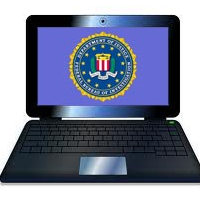 (photo illustration: Steve Straehley, AllGov)
The Federal Bureau of Investigation (FBI) has delayed for now the release of a website intended to educate students and teachers about the dangers of extremist threats after Muslim and Arab advocacy groups complained that it unfairly targeted those groups.
The game-style website, called "Don't Be A Puppet," was supposed to go live Monday but was put temporarily on hold, according to The Washington Post. Muslim and Arab advocacy groups, who were invited to preview the website, complained the effort to combat violent extremism framed the topic heavily in terms of threats by Islamic groups, even though those groups aren't the biggest threat to students and schools.
The New America research center reported in June that white supremacists, antigovernment fanatics and other non-Muslim extremists had murdered 48 people since the 9/11 attacks. Muslim terrorists had killed 26 Americans during the same period.
The FBI said it created the website to better identify those youth being targeted for radicalization.
"The program is based on flawed theories of radicalization, namely that individuals radicalize in the exact same way and it's entirely discernible," Arjun S. Sethi, an adjunct professor of law at the Georgetown University Law Center who was invited by the FBI to comment on the program, told The New York Times. "But it's not, and the FBI is basically asking teachers and students to suss these things out."
The program amounts to "misplaced priorities," Sethi said.
"The greatest threat facing American schoolchildren today is gun violence," he said. "It's not Muslim extremism."
-Noel Brinkerhoff
To Learn More:
Muslim Activists Alarmed by the FBI's New Game-Like Counterterrorism Program for Kids (by Michelle Boorstein, Washington Post)
FBI Tool to Identify Extremists Is Criticized (by Laurie Goodstein, New York Times)
Why the FBI Is Suspending Its Anti-Extremism Program (by Jack Jenkins, ThinkProgress)
Republican Debates Ignore Homegrown Right-Wing Extremist Attacks, Focusing Instead on Lesser Domestic Threat of Islamic Terrorism (by Noel Brinkerhoff and Steve Straehley, AllGov)
Since 9/11, More Americans have been Killed by Right-wing Extremists than by Muslim Jihadists (by Noel Brinkerhoff and Danny Biederman, AllGov)
Homeland Security Dept. Slashes Investigations of Non-Islamic Terrorism (by Noel Brinkerhoff and David Wallechinsky, AllGov)