Since 9/11, More Americans have been Killed by Right-wing Extremists than by Muslim Jihadists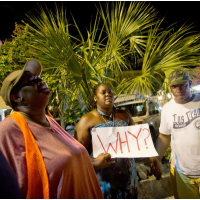 Prayer vigil outside Charleston's AME Church (photo: David Goldman, AP)
Islamic extremists in the United States have not been the most deadly threat since 9/11, according to a Washington think tank. No, that ugly distinction goes to right-wing groups and individuals who have killed far more Americans over the past 14 years.
The New America research center says white supremacists, antigovernment fanatics and other non-Muslim extremists have murdered 48 people since Sept. 11.
Meanwhile, jihadists have killed 26 Americans during the same period.
The 48 killed by right-wing elements include the nine murdered in Charleston last week by white supremacist Dylann Roof.
That attack was "only the latest in a string of lethal attacks by people espousing racial hatred, hostility to government and theories such as those of the 'sovereign citizen' movement, which denies the legitimacy of most statutory law," Scott Shane of The New York Times wrote. "The assaults have taken the lives of police officers, members of racial or religious minorities and random civilians."
There has been a misperception among Americans that jihadists have posed a greater threat than have right-wing extremists, terrorism scholar John G. Horgan of the University of Massachusetts, Lowell, told the Times. Even early news reports about the 1995 Oklahoma City federal building bombing (later determined to have been carried out by American anti-government extremist Timothy McVeigh) attributed the attack to Muslim militants. And certainly the perpetrators of the 9/11 terrorist attacks left a deep impression on Americans as to the nature and identity of the "enemy." But scholars and now law enforcement agencies are acknowledging that right-wing extremists are in fact the greater threat, according to New America researcher Charles Kurzman.
Such a misperception may have been bolstered by conservative Republicans wary of being smeared by associations that could be made between them and extremist elements of the right wing, according to the Times. In fact, some Republicans have reportedly gone so far as to quash government research efforts into the threats posed by such extremism.
"A 2009 report by the Department of Homeland Security, which warned that an ailing economy and the election of the first black president might prompt a violent reaction from white supremacists, was withdrawn in the face of conservative criticism," wrote Shane. "Its main author, Daryl Johnson, later accused the department of 'gutting' its staffing for such research."
In terms of domestic murders of Americans by jihadists versus those by right-wing extremists, here is a breakdown of the numbers published by New America:
Deadly Right-wing Attacks
2015 Charleston Church Shooting 9
2014 Tallahassee Police Ambush 1
2014 Las Vegas Police Ambush 3
2014 Kansas Jewish Center Shooting 3
2014 Blooming Grove Police Shooting 1
2012 Tri-State Killing Spree 4
2012 St. John's Parish Police Ambush 2
2012 Sikh Temple Shooting 6
2011 FEAR Militia 3
2010 Carlisle, PA Murder 1
2010 Austin, TX Plane Attack 1
2009 Pittsburgh Police Shootings 3
2009 Holocaust Museum Shooting 1
2009 George Tiller Assassination 1
2009 Ft. Walton, FL Shooting 2
2009 Flores Murders, Pima County, AZ 2
2009 Brockton, MA Murders 2
2008 Knoxville, TN Church Shooting 2
2004 Tulsa OK, Bank Robbery 1
Deadly Jihadist Attacks
2014 Washington and New Jersey Killing Spree 4
2014 Oklahoma Beheading 1
2013 Boston Marathon Bombing 4
2009 Little Rock Shooting 1
2009 Fort Hood Shooting 13
2006 Seattle Jewish Federation Shooting 1
2002 Los Angeles Airport Shooting 2
-Noel Brinkerhoff, Danny Biederman
To Learn More:
Deadly Attacks since 9/11 (International Security)
Homegrown Extremists Tied to Deadlier Toll Than Jihadists in U.S. Since 9/11 (by Scott Shane, New York Times)
Church Shooting Suspect Dylann Roof Is an Enigma, But Threat of Domestic Terrorism Is Clear (by Judy Thomas, Kansas City Star)
Since 9/11, Muslim Terrorists have Killed 49 in the U.S.; Since 2009, Non-Muslim Terrorists have Killed 44 (by Noel Brinkerhoff, Steve Straehley and David Wallechinsky, AllGov)
Homeland Security Dept. Slashes Investigations of Non-Islamic Terrorism (by Noel Brinkerhoff and David Wallechinsky, AllGov)