Republican Debates Ignore Homegrown Right-Wing Extremist Attacks, Focusing Instead on Lesser Domestic Threat of Islamic Terrorism
Saturday, August 08, 2015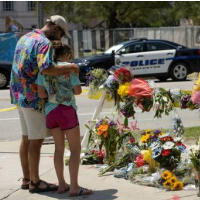 Makeshift memorial in Charleston, where white supremacist killed nine people (photo: Brendan Smialowski, AFP/Getty Images)
Watching Thursday's Republican presidential debate, with repeated questions from Fox News moderators on what the candidates would do to stop Islamic terrorism, was enough to make anyone think Muslim radicals are the biggest threat to the United States. But statistics show, and surveys of law enforcement officers confirm, that the bigger terrorism threat is from homegrown right-wing extremists.
Not once did the moderators ask the candidates about plots by white supremacists and other right-wing threats. The recent shooting of parishioners of a predominantly black Charleston church never came up.
In the 10 years that followed Sept. 11, right-wing extremists carried out an average of 337 attacks annually in the U.S., with 254 people killed, according to Alice Ollstein at ThinkProgress. American Muslims, on the other hand, are responsible for 20 plots in 13 years that resulted in 50 deaths.
Police officers also have said they're far more worried about right-wing terrorists than Muslim ones. The Police Executive Research Forum polled 382 law enforcement agencies last year and found 74% said anti-government extremism was one of the top three threats in their jurisdiction, while only 39% were as concerned with extremism connected with Al Qaeda or like-minded terrorist organizations.
-Noel Brinkerhoff, Steve Straehley
To Learn More:
First Fox Debate Included Repeated Questions on Islamic Terrorism, Zero on White Supremacist Attacks (by Alice Ollstein, ThinkProgress)
Home-Grown, Right-Wing Terrorism: The Hate the GOP Refuses to See (by Dean Obeidallah, Daily Beast)
Since 9/11, More Americans have been Killed by Right-wing Extremists than by Muslim Jihadists (by Noel Brinkerhoff and Danny Biederman, AllGov)
Since 9/11, Muslim Terrorists have Killed 49 in the U.S.; Since 2009, Non-Muslim Terrorists have Killed 44 (by Noel Brinkerhoff, Steve Straehley and David Wallechinsky, AllGov)