38 Civilians Killed in 2 Days by U.S.-Led Airstrikes in Syria
Friday, February 19, 2016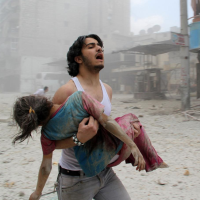 (photo: Baraa Al-Halabi, AFP/Getty Images)
BEIRUT (Reuters) - The Syrian Observatory for Human Rights, a British-based monitoring group, said on Thursday that at least 38 civilians were killed in air strikes carried out by a U.S.-led coalition in Hasaka province in northeast Syria in the past two days.
The United States and its allies are carrying out air raids in the area against Islamic State, which controls some parts of Hasaka province but has lost ground in recent months.
Hasaka borders mostly Islamic State-held Deir al-Zor province and Raqqa, the group's de facto capital in Syria.
The death toll published by the Observatory, which tracks the war using a network of contacts on the ground, included at least 15 people killed when strikes hit a bakery in the city of al-Shadadi near the border with Iraq on Tuesday.
Air raids in at least three other villages killed 15 others on Thursday, including three children, while eight more civilians died in air strikes elsewhere, it said. Reuters could not independently confirm the reports.
U.S. Lieutenant General Charles Brown, head of U.S. Air Forces Central Command, said he was aware of the report of civilian casualties. The U.S.-led coalition will begin assessing the credibility of those reports and start an investigation if required, he added.
"I do know that we've been striking at that area over the past several days," Brown said.
Separate raids near the town of al Houl, near the Iraqi border, and farther south killed 35 Islamic State fighters, the Observatory said.
The U.S.-led coalition has also been hitting Islamic State areas of control in Iraq.
Washington backs the Syria Democratic Forces in Syria, an alliance of Kurdish YPG fighters and other groups fighting the jihadists on the ground and which took al Houl from Islamic State in November.
The YPG has been the most effective partner against IS in Syria for the U.S.-led coalition, and took swathes of territory from the group last year.
The SDF said on its Facebook page on Thursday that it was launching another offensive, this time to capture al-Shadadi, an IS logistics hub located on a network of highways. Its capture would isolate Raqqa.
Russia is carrying out its own air campaign in Syria, hitting some Islamic State targets, but mostly focusing on insurgents fighting Moscow's ally President Bashar al-Assad in the west of the country.
Reporting by John Davison in Beirut; additional reporting by Yeganeh Torbati in Washington.
To Learn More:
Pentagon Admits to Civilian Deaths during Bombing against ISIS Last July (Reuters)
In Battle against ISIS, U.S. Reverts to Not Counting Civilian Casualties (by Noel Brinkerhoff and Danny Biederman, AllGov)
U.S. Bombing in Syria Kills Dozens Imprisoned by ISIS for Violating Sharia Law (by Noel Brinkerhoff, AllGov)
Civilian Casualty Guidelines for U.S. Drone Strikes Not Applied to Bombing in Syria and Iraq (by Noel Brinkerhoff and Steve Straehley, AllGov)
Independent Accounting of Civilian and Allied Casualties from Coalition Airstrikes in Iraq and Syria Vastly Exceeds Official Estimate (by Noel Brinkerhoff, AllGov)