Independent Accounting of Civilian and Allied Casualties from Coalition Airstrikes in Iraq and Syria Vastly Exceeds Official Estimate
Wednesday, August 05, 2015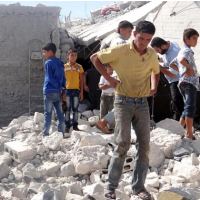 Aftermath of an airstrike in Syria--Ahmed Hasan Ubeyd/Anadolu Agency/Getty Images
Nearly a year's worth of airstrikes in Syria and Iraq against the Islamic State by the United States and its coalition partners have produced hundreds civilian and allied deaths, according to an international nonprofit organization, while the United States-led coalition claims that only two civilians have been killed in the attacks.
The group Airwars says its six-month investigation (pdf) into the airstrikes that began last August found there have been between 459 and 1,086 fatalities of civilians and allied forces. While conceding that it has been difficult to fully investigate all reported casualties, Airwars says it found enough evidence to believe at least 57 attacks caused between 459 and 591 civilian deaths and between 48 and 80 allied military fatalities between Aug. 8, 2014 and June 30, 2015.
The coalition has looked into only 10 reported incidents of non-IS deaths, admitting just two civilians have died out of more than 5,800 airstrikes that unleashed 18,000 bombs and missiles on Iraq and Syria. The official position of the coalition is the air war against the Islamic State is "the most precise and disciplined in the history of aerial warfare."
Airwars details the confidence the organization has in reports, noting if the incident is confirmed, if confidence the attack happened is fair, or in the case of a sole-source report, poor. The report also notes the difficulty in finding out which coalition partner may have made a particular airstrike.
-Noel Brinkerhoff
To Learn More:
Cause for Concern (by Chris Woods, Airwars) (pdf)
Civilian Casualties (Airwars)
Hundreds of Civilians Credibly Reported Killed in First Year of Coalition Airstrikes, Airwars Study Finds (by Chris Woods, AirWars)
In Battle against ISIS, U.S. Reverts to Not Counting Civilian Casualties (by Noel Brinkerhoff and Danny Biederman, AllGov)