U.S. Marshals Service Balks at Use of Bodycams when they Work with Local Police
Monday, November 16, 2015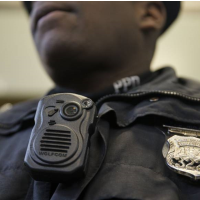 (AP photo)
The Justice Department is all for local police departments requiring their officers to wear body cameras. That is, until those officers have to work with . . . the Justice Department.
The U.S. Marshals Service told its officers several weeks ago that local police officers couldn't wear bodycams when they're participating in Marshals task forces, according to The Wall Street Journal. The reason, according to Assistant Director Derrick Driscoll, was that the Justice Department has not put into place rules for using bodycams, and when local officers work on federal task forces they're subject to federal rules.
A number of supervisors working for the Marshals Service have expressed concerns about the agency's new policy, pointing out it could lead to losing trusted local law enforcement partners, which would be a downside for future operations, according to the Journal.
Former senior FBI official Ron Hosko acknowledged that there would be "some growing pains as we move in the direction of more body cameras," but he cautioned that the policy could lead to the perception "that you have something to hide when you don't record," he told the newspaper.
The American Civil Liberties Union (ACLU) is concerned that the Justice Department still does not have a bodycam policy more than a year after the Ferguson protests. "We are well past the date where it's acceptable for major law-enforcement entities to not have a policy," Chad Marlow, advocacy and policy counsel for the ACLU, told the Journal.
Other federal law-enforcement agencies have been getting with the program. Customs and Border Protection announced last week that it would be equipping its officers with bodycams, to be used in "operations such as checkpoints, vessel boarding and interdictions, training academies, and outbound operations at ports of entry," according to Commissioner R. Gil Kerlikowske.
The FBI, however, seems to be aligning itself with the Marshal's Service in rejecting body cameras. The agency has said they don't expect their agents to wear them, even when working with local police, because its field work is more investigative in nature—implying that there wouldn't be the kind of interaction with suspects, or the public, that would be served by being recorded.
-Steve Straehley, Danny Biederman
To Learn More:
U.S. Urges Bodycams for Local Police, but Nixes Them on Federal Teams (by Devlin Barrett, Wall Street Journal)
Border Patrol Looking To Become One of the First Federal Agencies to Utilize Body Cameras (by Tim Cushing, Techdirt)
The Clash over Police Body Cameras Heats Up (by Danny Biederman and Noel Brinkerhoff, AllGov)
Complaints and Use of Force Drop after Rialto Police Don Tiny Video Cameras (by Ken Broder, AllGov California)