The Clash over Police Body Cameras Heats Up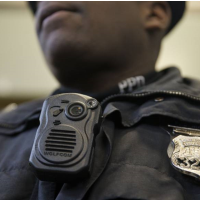 (AP photo)
The addition of body cameras on police officers was supposed to make police work more transparent by recording the actions of law enforcement. But more than a dozen states are now trying to change open records laws to shield these recordings from being seen by the media and the public.
The Associated Press (AP) says at least 15 state legislatures are considering legislation to make it harder to obtain body camera footage when they include citizens, ostensibly in order to protect people's privacy. Supporters of the bills also say the restrictions will help police departments save money on processing requests for the footage.
But civil rights advocates fear the new laws are really about protecting police from being held accountable for their actions.
"It undercuts the whole purpose of the cameras," Michelle Richardson, public policy director of the American Civil Liberties Union of Florida, told the AP. "People behave better on film, whether it's the police or the suspect, because they realize others are going to see them. When you take away that possible consequence, you really undercut the oversight value of these."
Even some former law enforcement leaders agree the restrictions might have "unintended consequences."
"I think it's a fair concern and a fair criticism that people might cherry pick and release only the ones that show them in a favorable light," former Charlotte, North Carolina, police chief Darrel Stephens, executive director of the Major Cities Chiefs Association, told the AP.
President Obama has promised that police body cameras will improve transparency in the realm of police activity, and he proposed a $75-million program to help fund the purchase of cameras for law enforcement. In spite of that, through the Task Force on 21st Century Policing that was launched in December, the White House this month proposed new restrictions on the body cameras.
Without public records laws, police exercise unilateral control over body camera footage. They are responsible for making the recordings, archiving them, and deciding which footage to release to the public and which to keep under wraps. In many cases, their decisions are final, according to the AP.
Among the states where efforts are under way to restrict access to police footage are Minnesota, where a bill has been advanced in the state senate; Florida, where legislation warns that releasing such footage could be used "for criminal purposes;" and Kansas, where its senate voted unanimously to exempt police recordings from the state's open records law. Arizona passed a law that "is among the most hostile to public access," reported the AP.
Several police officers across the country have lost their jobs based on their inappropriate actions recorded by their body cameras. Since San Diego, California, police began wearing cameras, use of "personal body force" by police has nearly been cut in half, use of pepper spray has been reduced by 30%, and citizen complaints against the police have dropped by more than 40%.
- Danny Biederman, Noel Brinkerhoff
To Learn More:
State Bills Would Limit Access To Officer Body Camera Videos (by Ryan Foley, Associated Press)
Camera-Toting Officer's Rare Punishment Brings Las Vegas Into New Territory (by Ana Ley, Las Vegas Sun)
San Diego Police Body Camera Report: Fewer Complaints, Less Use of Force (by Tony Perry, Los Angeles Times)
Who's Profiting from Police Body Cameras? The Company that Makes Taser Guns (by Noel Brinkerhoff, AllGov)
Complaints and Use of Force Drop after Rialto Police Don Tiny Video Cameras (by Ken Broder, AllGov California)