New Jersey Fourth State to Sue VW over Excess Diesel Emissions
Sunday, February 07, 2016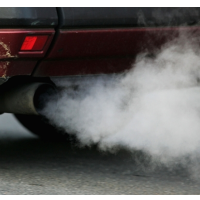 (photo: Getty)
By David Shepardson
(Reuters) - New Jersey on Friday filed a lawsuit against Volkswagen AG and its luxury units over the German automaker's excess diesel emissions, becoming the fourth U.S. state to take legal action.
New Jersey's acting attorney general, John J. Hoffman, accused VW and its Porsche and Audi units of perpetrating a massive fraud on consumers and violating state clean air laws.
VW has admitted installing illegal diesel emissions software to allow 580,000 U.S. diesel vehicles sold since 2009 to emit up to 40 times legally allowable emissions. It faces a U.S. ban on selling 2016 diesel models and is holding talks with California, which issued a separate ban, and the U.S. Environmental Protection Agency to win approval for a repair plan for the vehicles.
"For the past decade Volkswagen engaged in one of the largest frauds in the history of the automobile industry," the lawsuit filed in Superior Court in Hudson County said. "It developed and distributed into the marketplace sophisticated software to evade emissions requirements, it misled regulators about the true environmental impact of its vehicles, and it misled consumers about the products that it was marketing as supposedly good for the environment."
In addition to civil penalties for alleged violation of state air pollution and consumer fraud laws, the state is seeking restitution to consumers.
Volkswagen said Friday that the company's "top priority in the United States is to identify an approved remedy for affected diesel vehicles. We continue to cooperate fully with the EPA and (California) to achieve this goal."
New Jersey is joining the states of Texas, New Mexico and West Virginia and Harris County, Texas, in suing Volkswagen. The U.S. Justice Department filed its own lawsuit accusing VW of violating clean air laws and seeking up to $46 billion on Jan. 4.
VW faces more than 500 civil lawsuits that have been consolidated before a federal judge in California, who has retained a former FBI director as a settlement adviser.
The automaker also faces investigations by 48 U.S. state attorneys.
Earlier this week, VW filed a repair and recall plan for 80,000 3.0-liter diesel SUVs and larger cars. California last month rejected a separate fix plan for more than 480,000 2.0 diesel cars, saying it was insufficient and not timely enough.
The U.S. Justice Department and German prosecutors are also investigating the automaker, which has said up to 11 million vehicles worldwide were equipped with the software.
To Learn More:
Volkswagen Now Investigated for Fraud on Buyers' Environmental Tax Credits (by Steve Straehley, AllGov)
VW Programmed Diesel Cars to Cheat on Emissions Tests (by Ken Broder and Noel Brinkerhoff, AllGov)
VW Emissions-Cheating Cars Added 32 Million Tons of Extra Carbon Pollutants into Atmosphere (by Noel Brinkerhoff, AllGov)
VW Cheating Scandal Repercussions Spread to Tennessee (by Noel Brinkerhoff and Steve Straehley, AllGov)