VW Programmed Diesel Cars to Cheat on Emissions Tests
Tuesday, September 22, 2015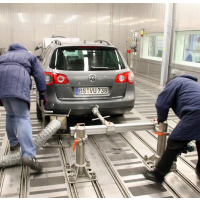 VW Passat at Volkwagen plant in Germany (photo: Jochen Luebke, Getty Images)
Volkswagen has found itself in serious trouble in the United States after federal regulators discovered the German carmaker had programmed many of its car lines to cheat on emissions tests.
The automaker used a computer algorithm to fool emissions testing equipment on hundreds of thousands of cars since 2009, according to the California Air Resources Control Board (CARB) and the U.S. Environmental Protection Agency (EPA).
VW's actions posted "a threat to public health," said Cynthia Giles, EPA assistant administrator for the Office of Enforcement and Compliance Assurance. She said the cars emit as much as 40 times the level of pollutants allowed under the Clean Air Act when they are on the road.
"The software was designed to conceal the cars' emission of nitrogen oxide, a pollutant that contributes to the creation of ozone and smog, which are linked to a range of health problems, including asthma attacks, other respiratory diseases and premature death," according to the The New York Times.
"This is several steps beyond the violations that we've seen from other auto companies," consumer advocate Tyson Slocum, director of the energy program at Public Citizen, told the Los Angeles Times. "They appear to have designed a system with the intention to mislead consumers and the government."
Mark Kleiman of Reality-Based Community described how the scheme worked: "Code was written into the engine-control software to detect the pattern of pedal and steering operations characteristic of an emissions test. Then, and only then, the car's emissions-control machinery would kick in. Once the test was over, the software noticed that, too, and returned to normal—that is to say, illegally and dangerously dirty—operations. . . . This wasn't one rogue engineer or engineering group at work. People up and down the chain had to be party to the crime."
The discovery by the EPA has resulted in a recall of 482,000 VW and Audi 4-cyclindar diesel-powered cars nationwide. The models affected by the VW software include the 2009-15 Volkswagen Jetta, 2009-15 Beetle, 2009-15 Golf, 2014-15 Passat and 2009-15 Audi A3.
VW's action could mean being hit with a hefty penalty by the U.S. government. The Clean Air Act allows fines of as much as $37,500 for each recalled vehicle, which could total as much as $18 billion. However, there was no indication whether the vehicles would actually be recalled. The EPA could order a recall, but Reuters said that could take a year. In the meantime, the automaker has said it would stop selling all of its cars in the U.S. that are equipped with the cheating diesel engines.
The notice of violation filed by the Obama administration is considered just the opening volley in a long process that will continue while the polluting vehicles tool around the country and the parties responsible walk around free.
-Ken Broder, Noel Brinkerhoff
To Learn More:
Volkswagen to Stop Sales of Diesel Cars Involved in Recall (by Jack Ewing and Coral Davenport, New York Times)
Volkswagen Issues Sales Halt; CEO Apologizes on Emissions Cheating (by Nathan Bomey, USA Today)
Volkswagen Halts U.S. Sales of Certain Diesel Cars (by William Boston, Amy Harder and Mike Spector, Wall Street Journal)
Diesel Truckers Pollute Air as a Protest against…Something or Other (by Noel Brinkerhoff, AllGov)