VW Emissions-Cheating Cars Added 32 Million Tons of Extra Carbon Pollutants into Atmosphere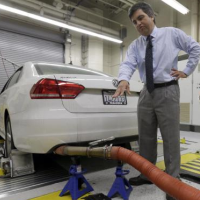 VW Passat undergoes emissions test at firm's pollution lab (photo: Nick Ut, AP)
Volkswagen's diesel cars designed to defeat emissions tests resulted in 32.2 million tons of extra carbon dioxide being released, according to the Center for Biological Diversity.
The environmental organization says this amount of greenhouse pollution is equivalent to the emissions of 6.8 million cars and is 10 to 40 times as much pollution as the cars were supposed to emit.
"What Volkswagen did wasn't just consumer fraud, it was a crime against our climate and against future generations relying on us for a livable planet," Peter Galvin, the center's director of programs, said. "The public has a right to know exactly what greenhouse gas pollution was released and in what amounts. What's clear, though, is that this will have a far-reaching effect on our clean air and climate."
The Center for Biological Diversity calculated that VW should be fined a minimum of $25.1 billion in the U.S. for rigging its cars to generate less greenhouse gases during emissions tests, giving the impression that their vehicles were complying with federal air pollution rules. The group arrived at that figure by adding $18 billion in Clean Air Act penalties to $7.1 billion "for the damage to the world's climate based on the social and ecological cost of burning fossil fuels."
The center also wants the Obama administration to "fully prosecute" VW executives for authorizing the test-cheating scheme.
-Noel Brinkerhoff
To Learn More:
Analysis: Volkswagen Smog Cheating Should Cost Company at Least $25 Billion (Center for Biological Diversity)
VW Scandal Caused Nearly 1m Tonnes of Extra Pollution, Analysis Shows (by Karl Mathiesen and Arthur Neslen, The Guardian)
VW Cheating Scandal Repercussions Spread to Tennessee (by Noel Brinkerhoff and Steve Straehley, AllGov)
VW Programmed Diesel Cars to Cheat on Emissions Tests (by Ken Broder and Noel Brinkerhoff, AllGov)