VW Cheating Scandal Repercussions Spread to Tennessee
Tuesday, October 06, 2015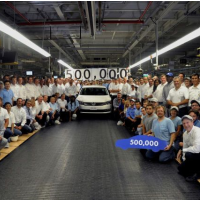 VW employees in Chatanooga celebrate a milestone in Passat production, July 2015 (photo: Volkswagen)
The fallout from Volkswagen's emissions cheating scandal is being felt in Chattanooga, Tennessee, home of the nation's only VW assembly plant.
The state and local governments have invested hundreds of millions of dollars in tax breaks to get and expand the VW plant, which employs more than 3,200 workers.
When the plant opened seven years ago, VW had already received $577 million in incentives from federal, state and local governments. The German automaker got another $230 million in incentives from state and local governments to expand its operations in Chattanooga rather than Puebla, Mexico, the site of the company's other major North American auto plant, according to the Institute for Southern Studies. And only last month the Tennessee State Building Commission gave VW $168 million in incentives to add SUV production at the Chattanooga plant, which is supposed to mean another 2,000 jobs.
But following the revelations that VW programmed its cars to cheat on emissions tests, there are worries about how the controversy will affect the company's sales and financial footing. "I am very concerned as to the financial impact these violations could present to the state of Tennessee," State Senator Bo Watson (R) wrote in a letter to the state Senate Finance Committee.
Some are already saying there will be job losses. University of Tennessee-Chattanooga economics professor Bruce Hutchinson told Chattanooga TV station WRCB that he expects some jobs will be lost, according to Courthouse News Service. "Some people are going to lose jobs, at least temporarily, those jobs will disappear," Hutchinson said. "There's going to be disruption."
The number of VW vehicles potentially involved in the scandal ranges from 500,000 in the United States to 11 million worldwide. The Chattanooga plant makes the Passat, whose diesel models have the cheating software.
The company is being investigated by the U.S. Environmental Protection Agency and the Justice Department, plus Congress is planning to hold hearings on the matter. VW is facing fines of up to $18 billion because of the huge number of cars involved, but it's unlikely it will be forced to pay that much. Criminal charges could also be brought against the company's executives.
-Noel Brinkerhoff, Steve Straehley
To Learn More:
What Tennessee Paid to Lure Lawbreaking Volkswagen to Chattanooga (by Sue Sturgis, Institute for Southern Studies)
'Watch & Wait' at Volkswagen's Only U.S. Plant (by Kevin Lessmiller, Courthouse News Service)
VW Programmed Diesel Cars to Cheat on Emissions Tests (by Ken Broder and Noel Brinkerhoff, AllGov)
Why Did Tennessee Autoworkers Vote against Joining Union When VW Didn't Oppose Them? (by Noel Brinkerhoff, AllGov)