Volkswagen Now Investigated for Fraud on Buyers' Environmental Tax Credits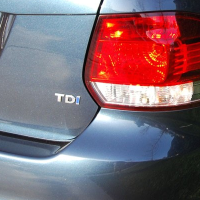 (photo: Steve Straehley, AllGov)
It's one thing to make the Environmental Protection Agency mad at you. But get the Internal Revenue Service riled up, and you've got real trouble.
That's the position in which Volkswagen may find itself in the latest chapter of its emission-testing cheating saga. The automaker certified its diesel-powered cars as being eligible for a clean energy tax credit for buyers in 2009 and 2010 and some 60,000 Volkswagen owners claimed a $1,300 credit on their taxes.
Now some senators want the federal government's money back. They're looking into whether the credits were claimed because of false data provided by VW, according to the Chattanooga Times Free Press.
"The vehicles in which Volkswagen installed 'defeat devices' included those that the company certified as qualifying for the advanced lean-burn technology," Senators Orrin Hatch (R-Utah) and Ron Wyden (D-Oregon) of the Senate Finance Committee said in a joint statement. "This activity raises questions of whether Volkswagen made false representations to the U.S. government in its certification for federal tax subsidies."
The senators are also trying to find out exactly who at Volkswagen claimed the cars qualified for the tax break. "Which Volkswagen employees were the primary points of contact for communication with the Internal Revenue Service regarding the advanced lean-burn technology motor vehicle credit?" the senators asked in a letter to VW.
The good news is that those who claimed the credit are safe. "The law makes clear that individuals should not be held liable for Volkswagen's bad acts," Wyden wrote Treasury Secretary Jack Lew. "I would like your assurance that there will be no effort to recover tax credits from consumers who were duped by Volkswagen and claimed the benefits in good faith."
According to Marketwatch, a 2006 IRS bulletin says the agency won't collect "any understatement of tax liability" from purchasers in the event a certification is withdrawn.
Volkswagen might not be so lucky. Several attorneys told Reuters that the company could be on the hook for three times the credits, plus $5,000 per car if it's found guilty of making false claims. With about 60,000 credits claimed, that's $534 million.
Just add it to their tab.
-Steve Straehley
To Learn More:
VW Buyers Improperly Got Over $50 Million in Tax Credits, Senators Say (by Dave Flessner, Chattanooga Times Free Press)
Senator Asks Treasury Not to Revoke Tax Breaks for VW Buyers (Accounting Today)
Senate Finance Probe May Mean New VW Liabilities (by Toby Eckert, Politico)
Senators Demand Answers From Volkswagen Over Individual Tax-Credit Use (by Robert Schroeder, Marketwatch)
VW Programmed Diesel Cars to Cheat on Emissions Tests (by Ken Broder and Noel Brinkerhoff, AllGov)
VW Emissions-Cheating Cars Added 32 Million Tons of Extra Carbon Pollutants into Atmosphere (by Noel Brinkerhoff, AllGov)
VW Cheating Scandal Repercussions Spread to Tennessee (by Noel Brinkerhoff and Steve Straehley, AllGov)