Italy Reduces Sentences of Two Americans Convicted in CIA Rendition Case
Saturday, January 09, 2016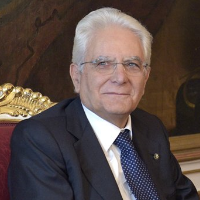 Italian President Sergio Mattarella (photo: Hans Punz, AP)
By Frances D'Emilio, Associated Press
ROME (AP) — In an act of clemency, Italy's president has shaved two years off the sentence of a former CIA base chief convicted in absentia in the 2003 extraordinary rendition abduction of an Egyptian terror suspect.
With the decree, announced Wednesday night by the presidential palace, President Sergio Mattarella reduced Robert Seldon Lady's sentence to seven years from nine. Mattarella also wiped out the entire penalty — three years — faced by another American convicted in the case, Betnie Medero. The palace statement noted that "neither of the two is currently in Italy."
They are among 26 Americans convicted in absentia in the kidnapping of a Muslim cleric, Osama Moustafa Hassan Nasr, also known as Abu Omar, from a Milan street.
The palace said Italy's head of state above all took into consideration President Barack Obama's ending the practice of extraordinary renditions, which Italy and the European Union consider "incompatible with the fundamental principles of a State of law."
Italian prosecutors' requests for extradition failed to move the Italian Justice Ministry into taking action.
Extraordinary renditions were part of the anti-terror strategy under the Bush administration after the Sept. 11, 2001, attacks.
In 2013, Mattarella's predecessor also cited Obama's decision to end extraordinary rendition when he pardoned a U.S. Air Force colonel, the only military defendant among the Americans in the case. Giorgio Napolitano said he pardoned Joseph Romano in hopes of resolving a situation "considered by the United States to be without precedent, because of the aspect of convicting a U.S. military officer of NATO for deeds committed on Italian soil."
Romano was security chief at Italy's Aviano air base where the cleric was taken before being flown out of the country and eventually to Egypt.
In 2013, Seldon Lady, the former CIA chief in Milan, was detained in Panama after Italy requested his arrest. But a few days later, Panama let Seldon Lady, who is retired, return to the United States. He then asked for a pardon from the Italian president.
A lawyer for Seldon Lady said Thursday he was studying the "legal and practical implications" of Mattarella's decision.
"At this time, we are not in a position to comment" on the development, said lawyer Thomas R. Spencer.
The presidential palace statement noted that others convicted in the case have also presented requests for clemency.
Among those seeking pardon is Sabrina de Sousa, a former CIA operative arrested in October in Portugal. She was sentenced to six years for her role in the kidnapping of the terror suspect, who was under surveillance by Italian law enforcement. She was traveling to visit her mother in India when she was detained. She was released after surrendering her U.S. and Portuguese passports. A Portuguese court must decide whether to surrender her to Italy.
In reducing Seldon Lady's sentence, Mattarella also took into account that the American's sentence was stiffer than fellow defendants convicted of the same crime, his office said.
Although lower Italian courts had found that the CIA had worked alongside Italian secret services, Italy's highest court last year acquitted Italy's former head of military intelligence and the former head of counter-intelligence, as well as three Italian agents, after the Constitutional Court ruled that key testimony was classified as a state secret.
Colleen Barry in Milan contributed to this report.
To Learn More:
CIA Agent Convicted in Italy for Kidnapping Detained in Portugal (by Steve Straehley, AllGov)
Ex-CIA Agent Accuses Top Bush Officials of Approving Kidnapping in Italy and then Abandoning those who Followed Orders (by Noel Brinkerhoff and Danny Biederman, AllGov)
Italy Imprisons Military Intelligence Chief for Helping CIA Kidnap Egyptian Cleric (by Noel Brinkerhoff and David Wallechinsky, AllGov)