CIA Agent Convicted in Italy for Kidnapping Detained in Portugal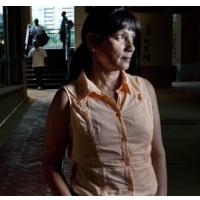 Sabrina De Sousa (photo: Nikki Kahn, Washington Post via AP)
A former Central Intelligence Agency (CIA) officer who was convicted in absentia for the kidnapping of a terror suspect in Italy was prevented from leaving Portugal and may be sent to Italy to serve her sentence.
Sabrina De Sousa was convicted, along with 22 other Americans, of participating in the abduction from a Milan street of Egyptian cleric Hassan Mustafa Osama Nasr, also known as Abu Omar, in 2003. He was taken to Egypt, where he was tortured, according to his wife and Italian prosecutors. He was freed in 2007.
De Sousa says she wasn't involved in the kidnapping, but did serve as an interpreter during its planning stages, according to The Washington Post. Since she and the other Americans—most of them CIA officials— were convicted by the Italian court in 2009, De Sousa has been outspoken in her criticism of the U.S. government's seeming abandonment of those involved in the kidnapping.
She told the Post that she knew that she could be detained by traveling to Portugal, but wanted to bring the matter to a head, either with the United States granting her diplomatic immunity or by Italy reinvestigating the kidnapping or granting her and those also convicted clemency.
"This has gone on for 10 years," De Sousa said. "It's impacted my life. I've got relatives in Europe, and I don't see any reason to give that up. The rendition should have never taken place, and we were all thrown under the bus for it."
De Sousa expressed surprise that it took Portuguese authorities as long as it did to detain her. "The interesting part of it is the timing," De Sousa told the Post. "Why now? When I came into Portugal I did not get detained. I have been here for several months and the Italians never asked Portugal to surrender me to Italy. When was it put into their system at the airport? Someone in Italy seemed to know I was traveling."
She said she was prohibited last Monday from leaving the country, but after a court hearing only had to surrender her passport and was not jailed.
De Sousa left the CIA in 2009 and sued to get diplomatic immunity to protect her from the Italian charges, but her case was dismissed.
Only one other defendant in the case has come close to being extradited. Robert Seldon Lady, who was the CIA's station chief in Milan at the time of the kidnapping, was detained in Panama two years ago at Italy's request but was released. One of the defendants, Col. Joseph L. Romano III, a retired Air Force commander, was pardoned by the Italian court in 2013.
-Steve Straehley
To Learn More:
Ex-CIA Officer Wanted in Italy Waits to Learn Fate after Detention in Portugal (by Ian Shapira,
Washington Post)
Former CIA Operative Sabrina De Sousa Arrested in Portugal (by Jeff Stein, Newsweek)
Former CIA Operative Detained in Portugal over Kidnapping of Cleric (The Guardian)
Ex-CIA Agent Accuses Top Bush Officials of Approving Kidnapping in Italy and then abandoning those who Followed Orders (by Noel Brinkerhoff and Danny Biederman, AllGov)
Italy's Highest Court Upholds CIA Kidnapping Convictions (by Noel Brinkerhoff and David Wallechinsky, AllGov)