Italy Imprisons Military Intelligence Chief for Helping CIA Kidnap Egyptian Cleric
Friday, February 15, 2013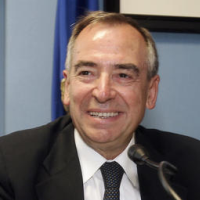 Niccolò Pollari (photo: Danilo Schiavella, ANSA, DC)
Unable to imprison the Americans behind the kidnapping of an Egyptian cleric, Italy has successfully jailed five Italians who took part in the 2003 controversy, including the government's former military intelligence chief.
Niccolò Pollari was sentenced to 10 years in prison for complicity in the Central Intelligence Agency's (CIA) abduction of Abu Omar (Hassan Mustafa Osama Nasr). His former deputy, Marco Mancini, received nine years, and three Italian secret service officials were sentenced to six years each.
In November 2009, an Italian court tried 23 Americans (all but one of whom worked for the CIA) in absentia for the Abu Omar kidnapping. All of the convicted received jail sentences of seven years, except for Robert Seldon Lady, the former Milan CIA station chief, who had his sentence increased to nine years after appealing. During the original trial, Lady told an Italian newspaper he was not guilty—but also indicated he may have been involved in the abduction. "I'm only responsible for carrying out orders that I received from my superiors," he told Il Giornale. The U.S. government has refused to turn over any of those convicted.
After being abducted, Abu Omar was transferred to U.S. military bases in Italy and Germany and eventually shipped to Egypt, where he says he was tortured. "You cannot imagine," he told Human Rights Watch. "I was hung up like a slaughtered sheep and given electric shocks….I could hear the screams of others who were tortured too."
The CIA later allowed him to be released after determining that he was not actually a part of a terrorist organization.
-Noel Brinkerhoff, David Wallechinsky
To Learn More:
Italy Jails Ex-Officials for Rendition (by Gaia Pianigiani, New York Times)
Italy's Ex-Intelligence Chief Given 10-Year Sentence For Role In CIA Kidnapping (by Glenn Greenwald, The Guardian)
Italy's Highest Court Upholds CIA Kidnapping Convictions (by Noel Brinkerhoff and David Wallechinsky, AllGov)
CIA Agents Convicted in Landmark Italian Rendition Case (by Noel Brinkerhoff, AllGov)