Defense Secretary Nominee Ashton Carter Criticizes his own Spending Record during Confirmation Hearing
Tuesday, February 10, 2015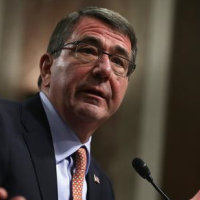 Ashton Carter testifying at the Senate hearing (photo: Alex Wong, Getty Images)
President Barack Obama's choice to take over the Pentagon, one of the most often criticized agencies for spending too much money, says it is time to "stop" the extravagant budgets. This from an official who oversaw development of some very costly and wasteful spending decisions for the military.
Ashton Carter, who has served two stints in the Department of Defense, told senators at his confirmation hearing that it was time to stop wasting so much money at the Pentagon.
"The taxpayer cannot comprehend, let alone support the defense budget, when they read of cost overruns, lack of accounting and accountability, needless overhead, and the like," Carter said. "This must stop."
After serving in the Clinton administration during the early 1990s as assistant secretary of defense for international security policy, he returned under Obama as undersecretary of defense for acquisition, technology and logistics from 2009 to 2011.
During his more recent stint as Deputy Secretary of Defense, Carter's duties included increasing the department's "buying power," according to his agency biography. That expansion featured the development of the F-35 fighter jet, said to be the most expensive weapon system in history. Its price tag: $1.5 trillion, according to Reader Supported News (RSN).
The F-35 program has been plagued with problems, including the suspension of all flights of the plane after a fire broke out in one of the jets during takeoff in 2014.
Carter was instrumental in exporting the F-35s to Israel.
Carter also helped oversee the Pentagon's decision to scrap thousands of MRAP [Mine Resistance Ambush Protected] vehicles, following the George W. Bush administration's over-purchasing of them during the height of the Iraq and Afghanistan wars. The scrapping "represented a loss of over $2 billion worth of equipment, assuming an MRAP's average cost of $1 million," RSN's Ken Klippenstein and Paul Gottinger wrote.
On the subject of the U.S.'s nuclear weapons program, Carter has said that "nuclear weapons don't actually cost that much." The nuclear arsenal has been estimated to cost as much as a trillion dollars over the coming 30 years, according to RSN.
-Noel Brinkerhoff
To Learn More:
Ashton Carter's History of Wasteful Military Spending (by Ken Klippenstein and Paul Gottinger, Reader Supported News)
State Government Finances Summary: 2013 (YouTube)
Secretary of Defense: Who Is Ashton Carter? (by Noel Brinkerhoff, AllGov)