U.S.-Designated Terrorist Group Now an Ally against Islamic State
Saturday, August 23, 2014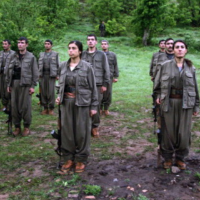 PKK fighters (photo: Safin Hamed, AFP/Getty Images)
A terrorist-branded group that has car-bombed U.S. allies and used drug trafficking to finance its objectives is now unofficially in league with—and may wind up receiving support from—Washington to stem the expansion of ISIS (Islamic State).
In Northern Iraq, where the Islamic State in Iraq and Syria has threatened Kurdish hopes of autonomy, the Kurdistan Workers Party (PKK) has joined the American-backed effort against the Muslim militants. The State Department has listed the PKK as a terrorist operation since 1997.
The PKK wants no part of being under ISIS control, as it has fought since 1984 to carve out an independent Kurdistan from Turkey, Iraq and Iran. That's why PKK fighters have teamed up with Iraqi Kurds and even the Iraqi Army to try to roll back the ISIS advance. The PKK was instrumental recently in helping the Yazidi refugees trapped in the Sinjar Mountains escape their ISIS pursuers.
"The PKK, whose ideology is a bland of ethno-nationalism and Marxism, isn't a group of sweethearts," Dan Murphy wrote at the Christian Science Monitor. Murphy explained that two decades ago the group used car bombs against Turkish authorities and pushed drugs around the world to raise money for its campaigns.
And, now, they might wind up receiving "foreign support" from the U.S., France and the United Kingdom that is being funneled to the Kurds to take on the ISIS.
"What this means, wittingly or unwittingly, is that the Obama administration has been effectively working with the PKK," Murphy reported, even if it means upsetting leaders in Turkey who want the PKK quashed, because Washington sees losing "large chunks of Iraqi Kurdistan, long the most stable corner of Iraq," as a "disaster" officials want to avoid.
The PKK "is the lesser evil now," Osman Bahadir Dincer, a Middle East expert at the USAK think tank in Ankara, told The Daily Beast.
-Noel Brinkerhoff
To Learn More:
Are the U.S., France, and UK Lining up to Support the 'Terrorist' PKK in Iraq? (by Dan Murphy, Christian Science Monitor)
PKK Kurdish Terrorists Are Fighting IS Terrorists With U.S. Help (by Thomas Seibert, Daily Beast)
The PKK's Evolution, 30 Years On (by Deniz Serinci, Rudaw.net)
U.S. Court Rules Syrian Government Responsible for Kidnapping of American in Turkey (by Noel Brinkerhoff, AllGov)