EPA Exec's Purported Double Life as a CIA Spy was Cover for Million-Dollar Fraud Scheme
Sunday, September 08, 2013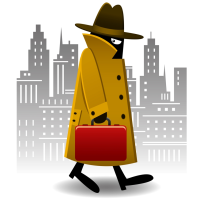 (graphic: Tickle the Wire)
A former senior official with the U.S. Environmental Protection Agency (EPA) has been charged with committing fraud—for collecting salary and benefits while not always working for the EPA. The accused, John C. Beale, claimed his numerous absences were due to his double-life as a secret agent for the Central Intelligence Agency (CIA), a seemingly dubious claim that EPA officials went along with for years.
According to federal prosecutors, Beale's fraud began as far back as 2000, while he served as a senior policy adviser in the Office of Air and Radiation making $164,700 a year. He spent a lot of his time over the next 12 years away from his job, telling his superiors that the CIA needed him on clandestine missions to places in China, South Africa and the United Kingdom.
His alleged scheme continued until April 2013, when he was forced to retire.
The Washington Post reported that Gina McCarthy, who now leads the EPA, found out about Beale's antics and told him it was time to leave.
The matter was then turned over to the U.S. Department of Justice, which charged Beale with stealing nearly $900,000 from the EPA by receiving pay and bonuses he did not deserve.
He is expected to plead guilty at a federal court in Washington next Monday.
Beale, who worked under two presidential administrations, faces up to three years in prison, and may be forced to pay the government more than $500,000.
Senator David Vitter (R-Louisiana), the senior GOP member of the Environment and Public Works Committee, called the alleged scheme a "massive fraud" and has demanded that the EPA's Office of Inspector General conduct its own investigation to determine if anyone else was involved.
Beale's wife, Dr. Nancy Kete, also worked for the EPA, her association dating back to the late 1980s, when Beale himself began his employment at the agency. Kete is currently managing director at the Rockefeller Foundation.
One of Beale's colleagues, Clean Air Watch president Frank O'Donnell, confessed that the enigmatic EPA adviser had many people believing his tales of globetrotting spy escapades. "There was always an aura of mystery surrounding him," he told the Post.
Another colleague of Beale, speaking anonymously to the Post, agreed. "We all actually believed that maybe there was something going on."
Indeed there was.
-Noel Brinkerhoff
To Learn More:
Former Senior EPA Adviser Beale Expected to Plead Guilty in $900,000 Pay Fraud (by Ann E. Marimow and Lenny Bernstein, Washington Post)
Senator Vitter Wants Investigation into EPA Fraud Case (by Rick Moran, American Thinker)