Administrator of the Environmental Protection Agency: Who Is Gina McCarthy?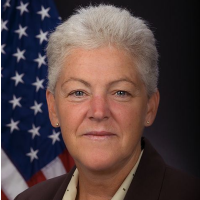 The woman known as President Obama's "Green Quarterback" is set to take over the Environmental Protection Agency (EPA) as its new administrator—if she can get confirmed by the Senate, where some conservatives are vowing a fight. Gina McCarthy has served as Assistant EPA Administrator for the Office of Air and Radiation since 2009. Although she drafted many of the agency's most controversial rules, including ones curbing mercury and soot emissions from power plants, she has a reputation among industry insiders as an open-minded pragmatist. If confirmed, McCarthy will succeed EPA Administrator Lisa Jackson, who had the job from 2009 to February 2013.
Born in Dorchester, Massachusetts, circa 1954, Regina McCarthy earned a B.A. in Social Anthropology at the University of Massachusetts at Boston in 1976, and a joint M.S. in Environmental Health Engineering and Planning & Policy at Tufts University in 1981.
McCarthy spent the first quarter-century of her career working for her native state as a health and environmental protection official from 1981 to 2004, serving five governors from both parties—including Mitt Romney, for whom she developed the state's climate-change plan. Her first job was in her hometown of Canton, Mass., where she was the first full-time health agent, from 1980 to 1984, when McCarthy went to work for the board of health in the neighboring town of Stoughton, Mass.
McCarthy was appointed to her first state-level position in 1985, when Gov. Michael Dukakis (D) named her to the commonwealth's Hazardous Waste Facility Site Safety Council. In 1991, Gov. William Weld (R) named McCarthy executive secretary of the council. In 1994, McCarthy became executive director of the administrative council at the state's Executive Office of Environmental Affairs (EOEA), which oversaw the hazardous waste council.
McCarthy's career in the Bay State culminated with stints as undersecretary for policy at EOEA from 1999 to 2003 and as deputy secretary at the Massachusetts Office of Commonwealth Development from 2003 to 2004.
Taking a job outside Massachusetts for the first time, McCarthy served as commissioner of the Connecticut Department of Environmental Protection from 2004 to 2009, where she implemented a regional policy to trade carbon credits to reduce greenhouse gas emissions from power plants.
A lifelong Democrat, McCarthy donated $1,000 to Barack Obama's 2008 campaign, $1,500 to Obama's 2012 campaign, and $500 to Sen. Elizabeth Warren's 2012 Massachusetts Senate campaign.
McCarthy is married to Kenneth McCarey, with whom she has three children, Daniel, Maggie and Julie. She has said that one of the "coolest" experiences of her life was getting to yell "Play ball!" at a Boston Red Sox baseball game.
-Matt Bewig
To Learn More:
4 Things to Know about Gina McCarthy, Obama's Pick to Head (by Catharine Hollander, National Journal)
Gina McCarthy, Obama's "Green Quarterback," Has a History of Working With Industry (by Coral Davenport, National Journal)
Gina McCarthy for EPA could be Obama's most Significant Nominee (by Brad Plumer, Washington Post)