Koch Brothers Responsible for almost 10% of TV Campaign Ads So Far this Year
Friday, September 05, 2014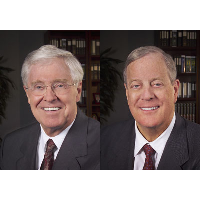 Charles and David Koch
The right-wing bogeymen known as the Koch brothers have given liberals yet another reason to shake their fists over the billionaire duo's campaigning spending.
Of the estimated 400,000 political ads that have aired so far in the battle over control of the U.S. Senate, nearly 10% have been generated by the "secretive political network of conservative billionaires Charles and David Koch," according to the Center for Public Integrity.
The number of Koch-funded commercials is pegged at more than 43,900, based on data the center gathered from Kantar Media/CMAG, an advertising tracking service. That data reflects advertising dollars spent between January 2013 and August 2014.
More than half of this total has been the product of Americans for Prosperity, the Koch brothers' primary campaign operation, which has produced more than 27,000 ads that have aired in nine battleground states.
In addition to Americans for Prosperity, the Koch election empire includes American Energy Alliance, Concerned Veterans for America, Freedom Partners, Generation Opportunity and the 60 Plus Association.
The Koch coalition has become the force in conservative campaign circles, having put up twice as many ads as those generated by GOP strategist Karl Rove's machine consisting of American Crossroads and Crossroads GPS.
The Daily Beast reported earlier this summer that the Koch network of groups plans to spend $290 million in support of conservative causes and Republican congressional candidates for the November elections.
-Noel Brinkerhoff
To Learn More:
GOP's Senate Hopes Energized by Koch Network Ad Blitz (by Michael Beckel, Center for Public Integrity)
Koch Brothers Unveil New Strategy at Big Donor Retreat (by Peter Stone, Daily Beast)
Koch Zero? Why Democrats Are Going to Have a Hard Time Enraging People about Campaign Finance (by Chris Cillizza, Washington Post)
Koch Brothers Spent more on 2012 Election than Top 10 Unions Combined (by Noel Brinkerhoff, AllGov)
Koch Brothers Group Boasts Total Control of Iowa and South Dakota Legislatures (by Noel Brinkerhoff, AllGov)
44 Congressional Darlings of the Koch Brothers (by Matt Bewig, AllGov)