Koch Brothers Spent more on 2012 Election than Top 10 Unions Combined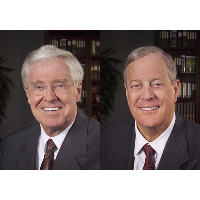 Charles and David Koch
In the campaign spending race between the largest American labor unions and the conservative Koch brothers during the 2012 election, the contest was decidedly one-sided.
The Koch brothers, who provide one of the largest sources of money for Republican politicians and conservative causes, spent $413 million two years ago.
That total far exceeded the combined spending of the top 10 unions: $153 million.
Union spending included that by the American Federation of State, County and Municipal Employees (AFSCME), Service Employees International Union (SEIU), National Education Association (NEA), International Brotherhood of Electrical Workers (IBEW), American Federation of Labor and Congress of Industrial Organizations (AFL-CIO), United Auto Workers (UAW), United Brotherhood of Carpenters (UBC), the Teamsters union, Communications Workers of America (CWA) and United Food and Commercial Workers (UFCW).
The money totals by each side include official financial disclosures and so-called "dark money" that individuals and organizations spend without filing reports to the government.
As for the Koch's war chest, its compilation was by no means a two-man operation involving only the brothers, Charles and David.
The Washington Post says the Kochs employ a vast network of like-minded individuals and groups that raise money, much of it in secret.
"The resources and the breadth of the organization make it singular in American politics: an operation conducted outside the campaign finance system, employing an array of groups aimed at stopping what its financiers view as government overreach. Members of the coalition target different constituencies but together have mounted attacks on the new health-care law, federal spending and environmental regulations," Matea Gold wrote for the Post.
Supporters and critics of the Koch political money machine can expect more of its largesse in the upcoming midterm elections, Gold says, with political attack ads already targeting Democrats for supporting the Affordable Care Act (pdf).
"It is a very sophisticated and complicated structure," University of Notre Dame Law School professor Lloyd Hitoshi Mayer told the Post. Mayer, who examined some of the Koch groups' tax filings, said he has never before seen a financial network like it in the realm of tax-exempt organizations. "It's designed to make it opaque as to where the money is coming from and where the money is going. No layperson thought this up. It would only be worth it if you were spending the kind of dollars the Koch brothers are, because this was not cheap."
-Noel Brinkerhoff
To Learn More:
Koch Spends More Than Double Top Ten Unions Combined (Republic Report)
Koch-Backed Political Coalition, Designed to Shield Donors, Raised $400 Million in 2012 (by Matea Gold, Washington Post)
Koch Brothers Group Boasts Total Control of Iowa and South Dakota Legislatures (by Noel Brinkerhoff, AllGov)
44 Congressional Darlings of the Koch Brothers (by Matt Bewig, AllGov)