Pentagon Finds 42% of Afghans Feel Less Secure Now than Before U.S. Invasion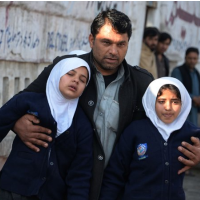 Afghan man assists two school girls after suicide bombing in Jalalabad this year (photo: Noorullah Shirzada, Agence France-Presse/Getty Images)
By Robert Burns, AP National Security Writer
WASHINGTON (AP) — Afghans feel less secure than at any recent time, a new Pentagon report (pdf) says, as Afghan battlefield deaths continue to escalate and civilian casualties hit a record high.
In a report Friday to Congress covering war developments since December, the Pentagon cited progress in developing more capable Afghan security forces 15 years after a U.S.-led invasion toppled the Taliban government. But it also said public opinion surveys indicate Afghans don't feel better protected.
"Perceptions of security remain near all-time lows," the report said. Only 20 percent of Afghans surveyed in March called security good. That is a drop from 39 percent a year earlier. In the latest polling, 42 percent of Afghans said security is worse now than during the time of the Taliban, which ruled the country from 1996 to late 2001 when U.S. troops invaded to eliminate an al-Qaida sanctuary. The report called the 42 percent figure a historic high.
The report portrayed the war effort as making modest progress despite the resilience of Taliban forces and continuing weaknesses in the Afghan military.
"The security situation in Afghanistan continues to be dominated by a resilient insurgency; but the Afghan government remains in control of all major population centers and key lines of communication," the report said.
In response to requests by U.S. commanders, the White House this month broadened the military's authority to conduct offensive operations against the Taliban. Yet to be determined is whether President Barack Obama will carry out a planned reduction in U.S. troop levels from the current 9,800 to 5,500 before he leaves office.
Afghan civilian casualties in 2015, as counted by the U.N. Assistance Mission in Afghanistan, hit the highest level since the U.N. group began systematic documentation in 2009, the Pentagon said. It said the number continued to rise in the first half of this year.
"As fighting and suicide attacks have increased in more populated areas, the number of women and children included among the civilian casualties has also increased," the report said.
Afghan security forces have suffered heavy casualties since they assumed the lead role in the fight against the Taliban in January 2015, with support from a U.S.-led international coalition. The Pentagon report said casualties for the period from December 2015 through May 2016 were higher than in the previous six months, although it offered no figures. It said specifics were contained in a classified annex provided to the Congress.
To Learn More:
Enhancing Security and Stability in Afghanistan (U.S. Department of Defense) (pdf)
U.S. Pays Almost $5 Billion to Dead and AWOL Afghan Soldiers (by Lynne O'Donnell and Mirwais Khan, Associated Press)
USAID's Millions Often Spent Blindly in Afghanistan, with Taliban as Occasional Beneficiary (by Noel Brinkerhoff and Steve Straehley, AllGov)
Longtime U.S. Policy in Afghanistan Allows Military Allies to Rape Children (by Noel Brinkerhoff, AllGov)
Harsh Inspector General Report Says 0 of 16 Afghan Agencies can be Trusted with U.S. Aid (by Noel Brinkerhoff and Danny Biederman, AllGov)
Civilian Afghan Deaths from U.S. Drone Strikes Continue to Build Hatred of U.S. (by Noel Brinkerhoff, AllGov)
U.S.-Employed Private Security Hits Record High in Afghanistan (by Noel Brinkerhoff and David Wallechinsky, AllGov)